Club closes 'Dungeon' of decadence and debauchery
THE FREAKS invade Galaxy Nightclub one last time this weekend, as veteran promoter
Matthew Grim
pulls the plug on "The Dungeon" after 14 years of monthly debauchery.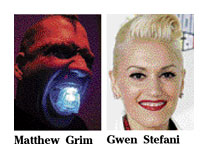 "It's been around so long ... it's probably the longest club event that's run in Hawaii, period," he said. "Comparatively, 1739 (Kalakaua Ave.) in its current state, is badass compared to Los Angeles or New York or whatever."
"The Dungeon" was always a little like the movie "Fight Club," where participants usually kept quiet about their involvement.
That secretary at the office who seems quite modest? It was women like her who would show up wearing leather and affix metal clamps to their nether regions, or post up in a dark corner of the club in order to get an old-fashioned spanking from a complete stranger.
Things used to get so crazy that service members stationed here were forbidden from attending.
" 'The Dungeon' was banned by the military ... they weren't even allowed to go the last five years or so," said Grim. "We just got it off the list for this last one."
Now based in Los Angeles, he continues to promote and host alternative lifestyle events, including the recent "Sexopolis" party in Hollywood and a quarterly "Bondage Ball." But will Grim, who grew up in Honolulu, come back to the islands to throw another party?
"We're doing another 'Bondage Ball' in Hollywood for Halloween," he said. "We're thinking about bringing an offshoot of that to Hawaii and starting that up."
In the meantime, Galaxy Nightclub will continue to operate and host the only regular after-hours party in town ...
WHEN POP superstar Gwen Stefani performed here last month, she took the time to mention her love for Hawaiian heirloom jewelry.
Turns out, she loves the stuff so much that she incorporated it into her recent runway fashion show during Fashion Week in New York City. Stefani and her models rocked custom-made items by Honolulu-based jeweler Philip Rickard during a L.A.M.B. preview on Sept. 5 ...
CONCERT UPDATES: Lupe Fiasco has canceled an appearance at Pipeline Cafe for the second time, and is scheduled to be replaced with the Incredibles, Rahzel, MC Supernatural, DJ JS One and local opener Creed Chameleon on Sept. 22 ... LTJ Bukem is signed to appear at Lotus Soundbar on Oct. 10 ... The Mad Caddies have confirmed an Oct. 12 gig at Pipeline. Tickets for that one are available exclusively at www.808shows.com ...
MORE CONCERTS: BAMP Project expands its reach into mainstream hip-hop, hosting the Ying Yang Twins at Pipeline on Nov. 10 ... And you'll have to fight for your right to buy tickets if the rumors are true about one legendary hip-hop group making the trip to paradise before the end of the year ...
WEEKEND PICKS: Nuuanu Avenue will shut down from 6 to 10 p.m. Friday to host "Taste of the Arts," a food, wine and jazz street festival featuring food from Cassis, Murphy's, Soul de Cuba, Tea at 1024, Cafe Joy, Little Village, Epic and Indigo. The Newjass Quartet, Cherry Blossom Cabaret and DJ mr. nick will perform, with celebrity chef demonstrations by Du Vin's Scott Nelson, Diamond Head Grill's Kelvin Ro, Epic's David Hoffman and Cassis' George Mavrothalassitis ... The biggest mixed martial arts event to happen in Hawaii to date takes place on Saturday, when "EliteXC: Uprising" airs live on Showtime from the Blaisdell at 3 p.m. ... "Island Vibrations" features the Typical Hawaiians, One Drop and Be-On Paradise, with a special performance by the Island All-Stars (Chief Ragga, Beach 5's Christian Yrizarry and Kalaeloa's Taz Vegas). Doors open at 10 p.m. for the 18-and-over crowd; cover is $10 for those over 21, $12 for unders ...