---
FAST FACTS HAWAII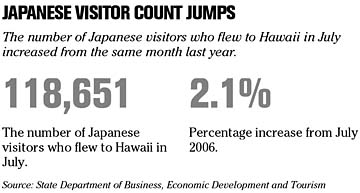 ---
HAWAII
Windward Mall announces tenants Windward Mall yesterday announced more new tenants following last month's celebration of its $23 million makeover.
The 25-year-old mall's new retailers include:
» Cathedral Gift Shop, a religious gift store

» Silver Tails, offering gifts for pet lovers

» Hawaii Home Interiors, which sells Hawaiian quilts and furniture

» Eternal Graphics, a decal shop

» Skate Shoes, offering adult and children skate shoes

» WatchChaBack Gear, which sells mixed martial arts gear
Little People Hawaii
also is expected to open soon in the newly-renovated Kaneohe mall, while new restaurants include
I Love Country Cafe
,
Chinatown Express
and
Devin's Italiano
.
NATION
Mortgage rates lowest in 4 months WASHINGTON » Rates on 30-year mortgages dropped this week to the lowest point in four months, providing some relief for people hoping to refinance their existing mortgages.
Freddie Mac, the mortgage company, reported yesterday that 30-year, fixed-rate mortgages averaged 6.31 percent this week, the lowest level since May 17.
Rates on 15-year fixed-rate mortgages averaged 5.97 percent this week. Rates on five-year adjustable rate mortgages averaged 6.17 percent, while one-year ARMs dropped to 5.66 percent. A year ago, 30-year mortgages stood at 6.43 percent, 15-year mortgages at 6.11 percent, five-year ARMS at 6.10 percent and one-year ARMs 5.60 percent.
WORLD
Alcatel-Lucent slashes forecast PARIS » Telecommunications equipment maker Alcatel-Lucent SA yesterday slashed its full-year revenue growth forecast and said it expects third-quarter operating profit to be "around break-even."
In a statement, Alcatel-Lucent said it expects revenue growth in 2007 to be flat to slightly up at a constant exchange rate. The company had previously estimated its full-year revenue would grow in the mid-single digit percentage range at a constant exchange rate.
Alcatel-Lucent said the revision reflects recent discussions with wireless customers in North America.
BRIEF CASE
On sale.
Hovnanian Enterprises Inc. is offering six-figure discounts on some of its properties this weekend. The sales blitz comes amid the worst housing downturn in 16 years, which has slashed or eliminated profits for Hovnanian and other national home builders.
Unified technology. Nokia Corp. said it's teaming up with other companies -- including Samsung and Sony Ericsson -- on a unified flash memory technology that can be plugged into a variety of gadgets.
Investment surge. Foreign investment in China rose 12.8 percent to $42 billion in the first eight months of this year, the Commerce Ministry says, despite new limits on investment in real estate and acquisitions of Chinese companies.
[ HAWAII INC. ]
Board elections
» The Society of Marketing Professional Services, Hawaii chapter, has announced its directors:
Cathy Handen
, president;
Michelle Skupin
, president-elect;
Mark Takawa
, treasurer;
Gail Atwater
, secretary; and
Howard Wolff
, director at large. The Hawaii chapter received its charter at the SMPS annual national conference in Washington, D.C. on Aug. 24.
» The Association of Records Managers and Administrators Hawaii chapter has announced itsdirectors for 2007-2008: Officers are Azia McCord, president; Debbie Nuesca, vice president; Gail Horimoto, secretary; and Rosalie Brissette, treasurer. Directors are Les Taki, Gainor Miyashiro, Chris Harris and Mark Hughes. Grace Chinen is immediate past president.
» St. Francis Healthcare Foundation of Hawaii has announced its directors for fiscal year 2008: Eugene N. Tiwanak has been elected chairperson of the board. Also elected to the board were Sister William Marie Eleneki, president and Monsignor Daniel Dever, secretary and treasurer. New directors named for three-year terms were Myrna Chun-Hoon, Jerry Correa, Chad Love, Helen Richardson and Albert Silva. Re-elected to two-year terms were Cynthia Farias, Frank Hata and Sister Florence Remata. Arlene Lum has been re-elected for a one-year term. Sister Agnelle Ching is an ex-officio member of the board.
---
BUSINESS PULSE