---
FAST FACTS HAWAII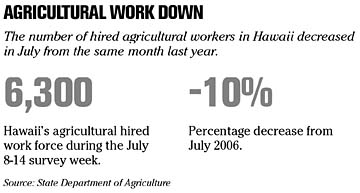 ---
HAWAII
Bankoh has 6-hour ATM outage Bank of Hawaii lost service on its more than 450 automated teller machines statewide for over six hours yesterday due to technical problems with the software used to run the ATM network, the bank said.
The ATMs stopped working at about 10:30 a.m. Bank technicians worked with vendor ACI Worldwide Inc. of Nebraska to bring the ATMs back online at about 5 p.m.
"We want to apologize to our customers for any inconvenience," said bank spokesman Stafford Kiguchi.
Internet banking and the Bankoh-by-phone system weren't affected by the software problems, the bank said.
Survey: Business optimism dips
The confidence level of local businesses has diminished in Hawaii, according to results from the August 2007
Bank of Hawaii
Business Confidence Survey.
Survey results indicate a shift in expectations -- with 22 percent of respondents expecting a higher overall level of activity in the next year, while 35.2 percent expect a lower level, and 42.8 percent in the middle.
Last year's August survey found 37.2 percent expecting higher activity, 47.9 percent about the same and 14.9 percent expecting lower activity.
Bankoh's chief economist, Paul Brewbaker, noted that the August results were gathered during unusual financial market turbulence.
"Results indicate the economy is stabilizing along a moderate growth path," he said.
NATION
Oil pierces $80 a barrel NEW YORK » Oil futures prices rose sharply yesterday, briefly climbing above a record $80 a barrel after the government reported a surprisingly large drop in crude inventories and declines in gasoline supplies and refinery activity.
The report from the Energy Department's Energy Information Administration suggested oil supplies are tightening as demand remains strong. That's why oil prices are rising despite OPEC's decision on Tuesday to boost crude production by 500,000 barrels a day this fall, analysts said.
Despite yesterday's jump, oil is still well below inflation-adjusted highs hit in early 1980. Depending on the adjustment, a $38 barrel of oil in 1980 would be worth $96 to $101 or more today.
BRIEF CASE
Grounded.
Aircraft maker Bombardier asks that all of its Q-400 turboprop planes with at least 10,000 flights be grounded immediately after a Scandinavian Airlines aircraft skidded off a runway with 52 people aboard, the second such incident in three days.
Phone purchase. Sprint Nextel Corp. will team up with mobile shopping firm mShopper to provide a service that allows subscribers to comparison shop for products, such as clothes or high-end electronics, and then buy the product over the phone.
One hot forecast. The World Bank raises its growth forecast for China's sizzling economy this year to 11.3 percent from an earlier 10.4 percent and says it appears well-placed to deal with recent global financial turmoil.
[ HAWAII INC. ]
New hires / promotions
» The Department of Business, Economic Development & Tourism has hired
Georja Skinner
as head of the creative industries division. She previously served as Maui commissioner on the Hawaii State Foundation on Culture and the Arts and is the founder of the Hawaii Filmmakers Initiative, a nonprofit organization for aspiring students in film, television and digital arts. She also was a founding member of the Hawaii Film and Entertainment Board and currently serves as a member of the Producers Guild of America and Women in Film.
» Kauai Lagoons has named Brad Snyder as general manager of operations. He will oversee development operations including residential and leisure offerings by Marriott and the Ritz-Carlton, the redesign of the Jack Nicklaus-designed Kiele Golf Course and introduction of new amenities including a restaurant and full-service spa. He has more than 30 years of experience in the hospitality industry.
» The Institute for Native Pacific Education and Culture has named Kanoe Naone as chief executive officer effective Oct. 1. She will oversee daily operations and strategic planning for the organization and lead efforts to develop new services and strategies for client needs. She currently serves as community relations and development director for Keiki O Ka 'Aina Family Learning Centers.
» Island Insurance Co. has announced the following promotions: Vance Tokumoto has been promoted to assistant vice president and assistant treasurer from assistant treasurer and cash management manager. He will continue to oversee capital allocation and investments and work with the company's financial consultants and investment managers to ensure compliance guidelines. He previously served at Pacific Resources and Foremost Dairies and has more than 28 years of experience in corporate financial management. Ross Yokoyama has been promoted to assistant vice president of the accounting and finance division from accounts receivable manager. Will continue to oversee the direct bill, agency receivable, cashier and customer service units, and respond to accounts receivable inquiries from policyholders, agents and agency principals. He previously served at Hawaiian Insurance & Guaranty Co., Charles Pankow Builders and Sheraton Hotels, and has more than 30 years of experience in accounting.
---
BUSINESS PULSE