Residents suspicious of recycling program
Richard and Gail Higa, Mililani residents for 10 years, have been through one curbside recycling pilot program, which succumbed to legal challenges. They aren't totally happy another one is starting Oct. 29.
"We rely on the two trash pickups," said Richard Higa. "I like the present pickup. It suits our lifestyle. We're probably going to end up paying the fee. It's never pleasant to have another added fee."
The Higas joined more than 150 others at an informational community meeting at Mililani High School last night. Residents seemed pleased, but many were concerned -- some even made heated statements -- about needing to pay $30 every three months if they want to continue a second trash pickup per week beginning in January in addition to a weekly recyclables collection.
"Hopefully, after this program, we might be able to reduce the fee, who knows?" said Mayor Mufi Hannemann last night.
Hannemann held a similar community meeting Monday night in Hawaii Kai, where most people welcomed recycling. They won't have the option of having a second trash pickup.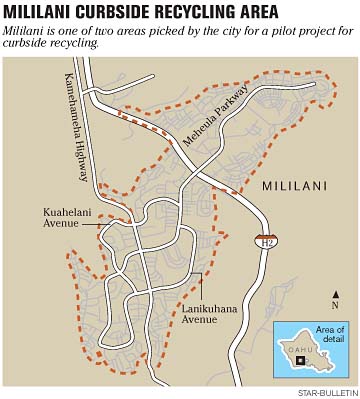 ---
For both communities, weekly recyclables pickup will alternate between mixed recyclables -- glass, bottles and newspapers -- and green waste.
Suzanne Jones, city recycling coordinator, acknowledged that recycling will take more effort but said it's necessary to divert some waste from Waimanalo Gulch Landfill.
"It's far more convenient to continue to throw everything away in one refuse container," Jones said.
If curbside recycling were taken islandwide, Jones said, an estimated 40,000 tons of recyclables and 80,000 tons of green waste could be diverted from the landfill every year.
Mililani resident Robert Sanchez said everyone needs to recycle.
"I'm not doing it for the city," Sanchez said. "I'm doing it for my kids. They need to learn how to recycle. That's the future for this island. There's no more room."
Hiram Au, a Mililani resident for 15 years, said he supports recycling but feels the city is still unprepared because it hasn't found a company to handle the recyclables after they are picked up.
Eric Takamura, director of the city Department of Environmental Services, said the city put a request for proposals out to companies yesterday with a Sept. 25 deadline for replies. He said after a three-week evaluation period, the city will select a company that should be ready by the time the program starts.
He said the price per ton might seem "alarming" because this is a pilot program with a smaller amount of material to handle. On larger projects, the city usually sends out requests much earlier, but "small contracts like this shouldn't be a problem," Takamura said.