---
FAST FACTS HAWAII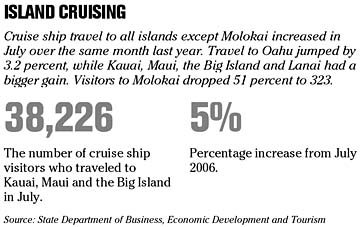 ---
HAWAII
ARCHITECTURE ACQUISITION
Local firm Advanced Modelworks is quickly snapped up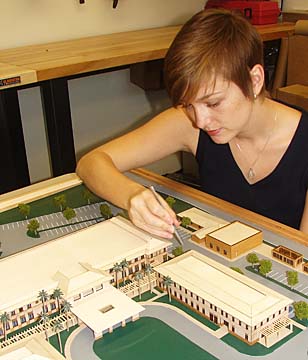 NATION
Health insurance premiums jump WASHINGTON » The increasing cost of health insurance is putting coverage out of reach for many small to midsize companies and their workers, even though the rise in premiums this year was the lowest increase in eight years.
Since 2001, the cost of premiums has gone up 78 percent, far outpacing a 19 percent increase in wages and 17 percent jump in inflation, according to a survey released yesterday by the Kaiser Family Foundation, a health care research group that annually tracks the cost of health insurance.
This year, the cost of premiums paid by workers and their employers was up 6.1 percent, while wages rose an average of 3.7 percent and inflation went up 2.6 percent, the survey said.
Texas Instruments trims forecast
DALLAS » Chip-maker
Texas Instruments Inc.
narrowed its third-quarter forecast yesterday, saying it expects earnings of 49 to 53 cents per share on revenue between $3.56 billion and $3.72 billion.
In July the company said it expected fiscal third-quarter earnings between 46 cents per share and 52 cents per share on revenue between $3.49 billion and $3.79 billion.
The July sale of a semiconductor product line associated with DSL equipment boosted the per-share estimate by 2 cents, the company said.
FAA urges airlines to cut flights
WASHINGTON » Dogged by record flight delays, the head of the Federal Aviation Administration yesterday said airlines need to shrink their schedules or potentially face government action.
"The airlines need to take a step back on scheduling practices that are at times out of line with reality," FAA Administrator Marion Blakey said in prepared remarks at an industry luncheon.
Blakey said the agency is particularly concerned about overcrowded skies and airports along the East Coast, saying "if the airlines don't address this voluntarily, don't be surprised when the government steps in."
BRIEF CASE
Beefed up.
McDonald's Corp. reported impressive August sales yesterday, attributing a better-than-expected 8.1 percent increase in same-store results to strong demand for its breakfast items, drinks and new Chipotle chicken wrap as well as a continuing turnaround in Europe.
Inflation rate surge. China's inflation rate surged to an 11-year high in August and the trade surplus grew, the government reported yesterday, adding to pressure on Beijing to ease currency controls and raise interest rates to cool its sizzling economy.
Shipment boost. ArcelorMittal says it plans to increase steel shipments by more than 20 percent from 2006 to 2012 as it pushes into Latin America, Africa, Eastern Europe, Russia and Central Asia.
Harvard vacancy. Mohamed El-Erian, who grew Harvard's endowment by 23 percent during his brief tenure as head of the university's investing, said yesterday that he will step down at the end of the year.
Wheat record. Wheat prices rose to a record, passing $9 a bushel in Asian trading, on concerns that declining global output will further shrink inventories at a 26-year low.
---
BUSINESS PULSE