Volleyballers don their combat gear
A storm is brewing for volleyball titans on Oahu.
After a relatively quiet first two weeks of regular-season play, powerhouses like Kamehameha, Punahou, Moanalua, Roosevelt and Kahuku are in full combat this week.
Tonight, No. 1 Kamehameha hosts No. 3 Punahou at Kekuhaupio Gym. Kamehameha, the two-time defending state champion, is also ranked fifth nationally by PrepVolleyball.com.
Sixth-ranked Kahuku, meanwhile, has a pivotal week ahead. The Lady Raiders will travel to No. 5 Roosevelt today, and then entertain fourth-ranked Moanalua on Thursday.
Two of the Interscholastic League of Honolulu's small-school powers, Sacred Hearts and Hawaii Baptist, hook up for battles with Division I goliaths. On Saturday, Sacred Hearts will host Punahou, while Hawaii Baptist travels to Kamehameha.
Moanalua coach Tommy Lake, who is highly familiar with players in both the ILH and the Oahu Interscholastic Association, is looking forward to the week both as a coach and as a fan.
"Roosevelt is the OIA champ, still one of the best ballhandling teams in the league," he said. "They had a huge loss to graduation in Hoku Oleole; they'll have to work much harder this year. (Today's) showdown with Kahuku should give us a peek."
The Lady Raiders, meanwhile, are compelling. Young, athletic, but facing their first tough week under new coach Uila Vendiola.
"They're big and athletic. Nothing changes except the coach. We'll have to see the effect of this change, or the lack of effect, since the Ah-Hoys had done it for so long," Lake said, referring to retired coach Mona Ah-Hoy and husband, Erwin.
Lake is one of many watchers who are impressed with unbeaten, resurgent Mililani. Dexter Young's team is 3-0 and ranked No. 8.
"The transfers, especially Candace Soares, have really helped this team become a contender," Lake said.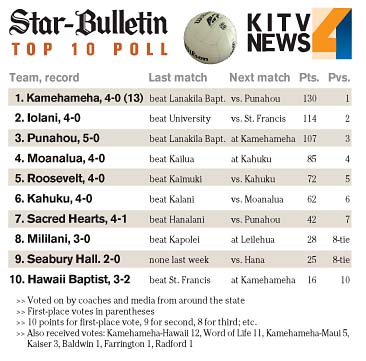 ---