'Rice' offers more than typical cultural memoir

"An Offering of Rice" by Mavis Hara (Bamboo Ridge Press, paperback, $15)
This book will fool you. Pick it up, scan the cover, peek at the first few entries and you'll be tricked into expecting another ethnic memoir, another psalm of plantation life, another tribute to Japanese culture through reverence for rice.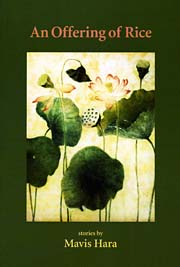 It is all those things, for starters. But just for starters. Don't be fooled.
Mavis Hara's "An Offering of Rice" is a beautifully written collection of short stories and poetry that carries the reader from plantation times to present-day, from the pineapple cannery to an orphanage in Japan where Hara claims a baby daughter.
Hara is a reading instructor at Kapiolani Community College, and her words wander through her life, her mother's life, through friendship, aging, illness, regret and joy. Her writing is elegant and spare, carrying a simple grace even as her characters converse in pidgin, or as the writer's hair falls out during chemotherapy for breast cancer.
The title tale is actually her mother's: "Okasan taught her that rice offered to the ancestors and the gods should be smoothed and round, not triangular like the musubi humans ate because there were no corners in heaven."
Here it begins and a theme of family takes root. But there is so much more.
Don't be fooled.
'An Offering of Rice'
» "Wine & Words": Reading, rice tasting, wine-and-pupu reception, book signing with writer Mavis Hara and cover artist Noe Tanigawa; 4:30 p.m. Thursday, Kapiolani Community College Tamarind Room. Donation: $10.

» Reading: 10:45 a.m. Sept. 26, Kapiolani Community College Holomua Center. Free.

» Book launch: Reception, book signing and reading; 7 p.m. Sept. 27, University of Hawaii-Manoa Campus Center Ballroom. Free.

» Call: 626-1481, e-mail brinfo@bambooridge.com or visit www.bambooridge.com.