---
FAST FACTS HAWAII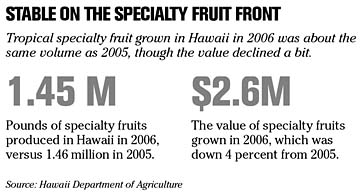 ---
HAWAII
Hawaiian Air busy in August Hawaiian Airlines carried 17.5 percent more passengers last month than in August 2006, according to figures released yesterday by the company.
The carrier, owned by Hawaiian Holdings Inc., transported 644,278 passengers during the month, compared with 548,169 the previous August.
Load factor was 87.7 percent in August, versus 85.7 percent in August 2006.
Revenue passenger miles last month were up 20 percent, compared with August 2006, to 715 million. Available seat miles last month increased by 17.2 percent compared with August 2006, to 814.9 million.
A&B unit opens mainland office
The real estate subsidiary of
Alexander & Baldwin Inc.
has opened an office in Orange County, Calif., as part of its strategy to expand its mainland holdings
Heading up the office for A&B Properties Inc. will be Kevin Stiles, who recently joined the company as vice president-mainland acquisitions. Stiles previously was vice president of leasing in for CarrAmerica Realty Corp., which has offices in Pleasanton, Calif.
A&B Properties CEO Stanley Kuriyama said the California office will enable the company to better manage its operations on the mainland, where in the past decade it has invested more than $670 million in 25 properties.
NATION
Apple sells 1 millionth iPhone NEW YORK » Apple Inc. said yesterday it sold its millionth iPhone over the weekend, just 74 days after the combination cell phone-iPod went on sale and less than a week after its price was cut by a third.
Apple previously said it expected to hit the million-sold mark by the end of September.
On Wednesday, Apple CEO Steve Jobs cut the price of the 8-gigabyte iPhone from $599 to $399 and discontinued the $499 4-gigabyte version. The next day he apologized to those who had paid full price and offered $100 credits to early buyers.
WORLD
Japan says economy contracted TOKYO » Japan's economy contracted in the April-June quarter, the government said yesterday in a revision of its preliminary estimate that it had expended.
The latest data suggest that the world's second largest economy -- which has been recovering in recent years -- may be suffering a slowdown in its pace of growth, making it harder for the Bank of Japan to raise interest rates anytime soon.
The government said the nation's gross domestic product fell 1.2 percent on an annual basis in the April-June period, the first contraction in three quarters. Its preliminary estimate had been that the economy had grown 0.5 percent in the spring quarter.
Blackstone buys into Chinese firm
BEIJING »
Blackstone Group LP
bought a 20 percent stake in a Chinese chemical company yesterday, in its first deal in the country since a Chinese government fund bought into the U.S. private equity firm.
New York-based Blackstone paid $600 million for the stake in state-owned China National BlueStar (Group) Corp., the two companies said in a statement.
The deal, which requires regulatory approval, cements Blackstone's status as a key player on the mainland.
Efforts by Blackstone rivals Carlyle Group LP and Goldman Sachs Group Inc.'s private-equity division to invest in Chinese firms have been hindered by China's approval process and rising valuations for assets.
BRIEF CASE
Just charge it.
Consumers kept charging at a rapid pace on their credit cards in July although their overall borrowing slowed a bit. The Federal Reserve reported that consumer credit rose at an annual rate of 3.7 percent in July, down from a 5.9 percent growth rate for consumer debt in June.
Spot checks. Following the recall of millions of toys by Mattel Inc., Walt Disney Co. said yesterday it will independently test toys featuring its characters. Disney said it will hire companies to randomly buy Disney-branded toys from store shelves and test for lead paint and other safety issues.
---
BUSINESS PULSE