| | |
| --- | --- |
| | Newswatch |
---
COUNT ON SAFETY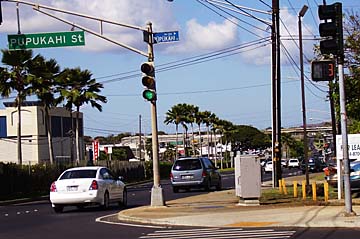 State funds work on Kapolei road
More than $12 million in state funds has been released for the second phase of the North-South Road project in Kapolei on Oahu.
The road will connect Kapolei Parkway to the H-1 freeway.
The Department of Hawaiian Home Lands is allocating an additional $6 million for the construction of water and sewer lines required during the second phase of the project.
The state broke ground in February 2005 on the more-than-2-mile, six-lane highway.
The long-awaited North-South Road will provide area residents an additional route to and from the freeway. It also will supplement the two existing north-south routes -- Fort Barrette Road and Fort Weaver Road.
State flags to honor 9/11 victims
Gov. Linda Lingle has ordered state flags at state and county buildings to be flown at half-staff Tuesday from sunrise to sunset in honor of those who lost their lives in the Sept. 11, 2001, terrorist attacks, a state news release said.
Lingle also proclaimed Tuesday as "Patriot Day" in Hawaii. Her order to lower the state flag coincides with President Bush's order for all U.S. flags to be flown at half-staff the same day in memory of the victims.
On Dec. 18, 2001, the U.S. Congress designated Sept. 11 of each year as "Patriot Day."
Deadline near for tax exemption
Homeowners are advised that Oct. 1 is the deadline to file claims for home exemptions to reduce their real property assessments and taxes.
For qualifying homeowners under 65, the exemption is $80,000. For those older, the exemption is $120,000. A change in ownership or use voids the exemption and must be reported to the city real property assessment division within 30 days of the transaction.
Forms are available at 842 Bethel St., at 1000 Uluohia St. Room 206, and all satellite city halls. They are also available online at www.honolulu.gov/rpa.
UH doubles Hawaiian financial aid
The University of Hawaii is doubling annual need-based financial aid to Native Hawaiians to $5 million by 2010.
UH President David McClain says the initiative will help ensure all Native Hawaiians with financial need will be able to attend the university.
The scholarship is available to Native Hawaiian undergraduate and graduate students with demonstrated financial need at all 10 campuses of the university system.
Last year, more than 3,000 Native Hawaiian students applied for financial aid. Nearly 80 percent received some form of federal state, university or UH Foundation grant or scholarship. The university provided more than $2 million.
Craven earns interim dean post
The University of Hawaii at Manoa appointed mathematics professor Thomas Craven as the interim dean of the College of Natural Sciences.
Craven fills the vacancy created by the retirement of Dean Charles Hayes.
"Our natural sciences are crucial to the success of UH Manoa as a research university, and professor Craven's experience will serve us well during this critical period of change and development," Chancellor Virginia Hinshaw said in a written news release.
Craven has been a professor in the mathematics department since 1973 and served as its chairman since 2003. He earned his Ph.D. and master's degree at Cornell University and his bachelor of arts from Reed College.
| | |
| --- | --- |
| | Police, Fire, Courts |
---
HONOLULU
Argument ends with man slashed A 20-year-old man was arrested after allegedly slashing another man with a knife in Makiki.
At about 10:56 Wednesday night, the suspect and a 31-year-old man were involved in an argument. Police said the suspect allegedly brandished a weapon.
The suspect was arrested on Lunalilo Street yesterday on suspicion of second-degree assault.
Single-car crash kills driver
Oahu saw its 46th traffic fatality of the year Friday night after a 47-year-old man crashed his car on the Punchbowl Street onramp to the H-1 freeway.
At about 10:36 p.m., the man was driving a 2005 two-door gray Toyota sedan north on Punchbowl Street past Lusitana Street, when it crossed over to the southbound lanes, left the roadway, went up the dirt embankment and hit the concrete side of the H-1 freeway overpass.
The driver was taken to the Queen's Medical Center, where he was pronounced dead. Police said speed was an apparent factor. Oahu saw 67 traffic fatalities by this time last year.
LEEWARD OAHU
Car stolen after woman's sleepover Police arrested a 20-year-old woman accused of sleeping at a man's home, then stealing his car.
On Wednesday night, a 21-year-old man met the woman at a nightclub, and brought her home where she spent the night. Police said when the man awoke, the woman and his car was missing.
Police said the man saw the woman driving his car Friday afternoon at around Kahuamoku and Kahuanani Streets in Waipahu. She was arrested on suspicion of unauthorized control of a propelled vehicle.
CENTRAL OAHU
Fake money orders fail to sway clerk Police arrested a 39-year-old man who allegedly tried to cash five counterfeit money orders for hundreds of dollars.
Police said that about 6:35 p.m. Wednesday, the suspect tried to cash the money orders, each worth $470, at the Mililani Wal-Mart at 95-550 Lanikuhana Ave. The cashier called police, who arrested the suspect on suspicion of five counts of second-degree forgery.
NEIGHBOR ISLANDS
Man is charged in road rage attack Big Island police charged a 25-year-old Honokaa man yesterday with assault in a road rage incident that resulted in a 23-year-old man losing his eye.
Alfred Berdon III was charged Friday with first-degree assault, second-degree assault, criminal property damage and unauthorized entry of a motor vehicle. Bail was set at $14,000.
Police said that the two men were driving in separate cars from Waikoloa Road onto Route 190 heading toward Waimea when the 23-year-old man gestured for Berdon to pull over.
Berdon approached the other driver, who was seated in his car. After exchanging words, Berdon allegedly punched the victim in the left eye.
The victim's sunglasses shattered and he received serious injury to his eye, which later had to be removed, police said.
The incident stemmed from a previous road rage incident between the two, police said.
2 people arrested in marijuana bust
Big Island police discovered four separate indoor marijuana growing operations during a raid Tuesday on a 10-acre property on Pohoiki Road in Puna, according to a Hawaii County Police news release.
Two people were arrested.
Police said two of the growing operations were set up in shipping containers, one was in a greenhouse and the fourth one was in a barn.
About 630 marijuana plants were recovered, along with two rifles, the release said. The suspects, 51-year-old Robert Petricci and 45-year-old Sara Steiner, were each charged Wednesday with four counts of commercial promotion of marijuana and other drug charges. Petricci's bail was set at $53,000, Steiner's at $26,000.