Candle blamed in Aiea house fire
HFD investigators look into the cause, although the family blames an open flame
An Aiea family was displaced yesterday after a fire burned through a rear bedroom and up the side of their home.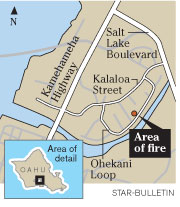 Alex Mogote, who lives on Ohekani Loop with his wife, two children and in-law family, was returning from an early-morning fishing trip with a friend when he saw black smoke coming from the general direction of the house.
Mogote and his friend went into action when they saw the smoke originating from his home. He said they grabbed garden hoses, and sprayed toward the blaze until firefighters arrived.
"I got two hoses, shooting myself with the water and shooting the fire at the same time," Mogote said. "It was some adrenaline rush."
Firefighters were called to the scene at 8:11 a.m., and about 20 firefighters brought the flames under control 14 minutes later, said Honolulu Fire Department Capt. Terry Seelig.
Seelig said fire investigators had not yet determined the fire's cause, and damage estimates were not yet available.
However, Mogote's wife, Inga, said her mother lit a candle for morning prayer and that it was knocked down, setting some curtains ablaze. Her elderly father suffered minor burns as he tried to put out the fire with a hose.
"It appears the fire began in a rear bedroom attached to the structure," Seelig said. "And there was some flame extension damage to the side of the home next door."
Four people were treated after they said they had some difficulty breathing from the smoke, including the elderly couple living in the home. They were all in stable condition.
The American Red Cross was at the scene to offer assistance.
Seelig stressed the importance of installing fire alarms, noting there was no alarm in the back bedroom.
"Alarms will alert occupants well before the point that it catches the whole room with fire," Seelig said.