West Oahu freshmen help UH enrollment grow
Enrollment at the University of Hawaii's 10 campuses increased slightly over last year to 50,804 students, with UH-West Oahu and the community colleges seeing the biggest increases.
UH-West Oahu, which added its first freshman class this fall, had 74 more students than last year, an 8.2 percent increase to 971 students.
Enrollment at the flagship UH-Manoa campus dipped by 301 students to 20,006, a 1.5 percent decrease. UH-Hilo's enrollment was up 2.6 percent to 3,608 students, 91 more than last year.
"I'm just really pleased that we're holding our own," said Linda Johnsrud, UH vice president for academic planning and policy. "With the tuition increases, we've been concerned with whether that increase will have an impact on the ability of students to come."
The university is in the second year of a tuition increase that will more than double the cost of college at UH-Manoa over six years and increase community college tuition by 98 percent.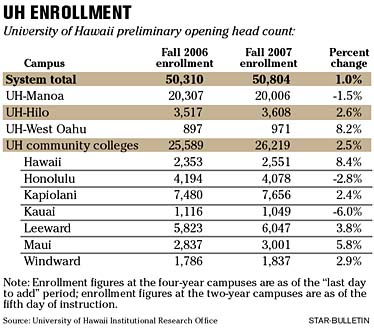 ---
Johnsrud said the university has been putting a greater emphasis on recruitment of local students and on increasing financial aid.
"It seems to be working," she said.
The seven UH community colleges saw an increase of 630 students to 26,219, continuing a trend over the past few years.
Leeward Community College had the biggest numerical increase of 224 students. Hawaii Community College saw the biggest percentage increase with enrollment up by 198 students, or 8.4 percent.
Maui Community College enrollment was up by 164 students or 5.8 percent to 3,001. Leeward Community College and Kapiolani Community College also gained students, while enrollment at Kauai Community College and Honolulu Community College declined.
Johnsrud said she is watching the increase in community college enrollment closely.
"The economy is still doing really well, and we still have this increase," she said, saying that community college enrollment tends to decrease during periods of high employment as people put off school in favor of working.
She said university officials will be looking to see whether the increase is from high school graduates picking community college over universities or from adults returning to school.