| | |
| --- | --- |
| | Island Mele |
---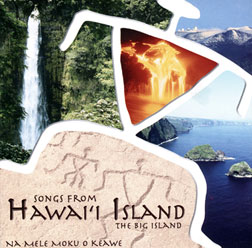 "Songs From Hawai'i Island
(Na Mele Moku O Keawe)"
Various artists
(Daniel Ho Creations)
"Place songs" have been a popular subject for Hawaiian song writers for generations. This compilation, created for the Hawai'i Island Visitors Bureau by Keoki Kahumoku and Elmer "Sonny" Lim Jr., utilizes the talents of 13 Big Island residents in an 11-song collection that "celebrates stories of our homeland, the island of Hawaii." Kahumoku produced the project; Lim is credited with providing additional bass, slack-key guitar and steel guitar.
Both men also perform. Kahumoku contributes "Kealia," one of three hapa-haole songs. Lim is joined by his mother, Mary Ann Lim, on "No Kohala." The list of participants also includes Na Hoku Hanohano Award winners John Keawe, Darlene Ahuna and Diana Aki.
The pre-Contact music of Hawaii is represented by a chant, "Lei O Hilo Ka Ua Pe Ka Uahi," performed by Kekuhi Kanahele Kealiikanakaoleohaililani, Taupouri Tangaro and their students. "Ka La Hui Pua'a," performed to a catchy hapa-haole rhythm by Daniel Kahikina Akaka Jr., is also noteworthy.
While some "place songs" are straightforward descriptions of a particular location, others contain kaona (concealed references) about people or events. Unfortunately, producer Kahumoku provides no information about the meaning of the eight Hawaiian songs, let alone translations or anything about the ties they may have to the artists who recorded them. The lyrics may be describing the beauty of the Big Island, but visitors -- and everyone else who isn't fluent in Hawaiian -- won't get the message.
---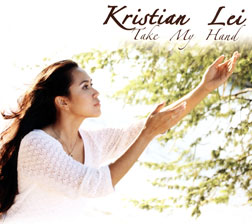 "Take My Hand"
Kristian Lei
(Women of Our World)
Kristian Lei's long-anticipated debut is a beautifully crafted testament to her Christian faith. From the first song to the last, it is also a memorable showcase for an exceptional vocalist. Whether she is singing at full force with a studio choir behind her, or at little more than a musical whisper, Lei is worth hearing. With pianist Pierre Grill as the foundation, and various guests adding their talents on one song or another, she has excellent support throughout.
"For a Peaceful World" opens with Grill playing an almost imperceptible melody line under Lei's delicate vocal. It then becomes stronger and more robust when guest vocalist Mihana Aluli Souza joins Lei to sing the song's Hawaiian lyrics.
Grill's use of electric keyboards and an organ creates a traditional gospel feel as "Let Me Be of Love" builds to a powerful finish. Kala'i Stern's studio choir adds impact to Lei's stirring rendition of "Come Fly with Me."
Lei and Grill close with a soothing yet inspirational rendition of "The Lord's Prayer" that sums up the message perfectly.
---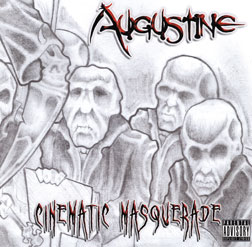 "Cinematic Masquerade"
Augustine
(Made in Pain)
Augustine, one of the noteworthy participants in Jason Miller's recent "Metal Made in Hawaii" compilation, steps forward with a full-length album that offers some unusual ideas in local metal. Where most groups in town feature a single roarer, er, vocalist, Augustine has three distinct voices. And, although the primary voice spews lyrics in the standard hard-core style -- imagine a psychotic demon with a sore throat who's having a very bad day -- other vocalists provide counterpoints in imaginative ways.
Conventional melodic singing emphasizes key lyric passages in "What Would You Do" and "Mind Thieves." The leisurely acoustic introduction on the deceptively titled "Ballad" also adds dramatic impact.
The arrangements -- most of them frenetic, a few others slow and brooding -- are the musical delivery system for grim and desperate commentary on the evils of society, phonies and hypocrites, and deceptive lovers. With "Cinematic Masquerade," Augustine provides perfect anthems for scenarios of nightmarish revenge on all of them.
John Berger
, who has covered the local entertainment scene since 1972, writes reviews of recordings produced by Hawaii artists. See the Star-Bulletin's Today section on Fridays for the latest reviews. Reach John Berger at
jberger@starbulletin.com
.