Sound upgrade taking thirtyninehotel offline
SIX MONTHS after closing to revamp the look at
thirtyninehotel
, plans call for the Chinatown nightspot to shut down for a second time next week to install a new sound system.
DJ Harvey will join Mark Chittom for the monthly "First Friday" activities in the neighborhood before the closure takes effect on Sunday. Re-opening is set for next Friday, when Ooklah the Moc will headline "Get Hi," a new monthly reggae showcase.
Other changes: The Newjass Quartet is pau at thirtyninehotel on Tuesdays, "Double Joy Disco" moves to first and third Fridays starting in October and DJ Nicky Siano will return to headline thirtyninehotel's third birthday celebration on Oct. 13 ...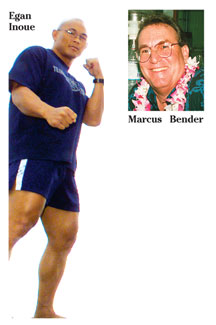 SPOTTED: Mayor Mufi Hannemann and local MMA legend Egan Inoue at Nobu on Friday. Stolichnaya sponsored cocktails in the restaurant's lounge, which appears to be a pretty chill spot when not crammed full of people ... Raekwon and MC Supernatural stopped to hang with Rick Rock at Pipeline on Friday, while other Wu-Tang Clan members made an appearance at Sick Dog Productions' official concert afterparty at Cirque Hawaii on Saturday ... Hawaii-born Pussycat Doll Nicole Scherzinger sampled quite a bit of the local nightlife scene while here to promote her debut solo album, "Her Name is Nicole." In addition to hosting "The Monkey Bar" at the Hyatt Regency Waikiki, she dined at Aaron's on Friday and partied at Pearl on Saturday. Pearl GM Alvin Yeh reports Scherzinger enjoyed "super VIP style" bottle service and surprised club patrons with a live performance ...
CONGRATS TO Amber Stone, who was crowned Miss Kai Vodka 2007 during Russell Tanoue's "Hot Summer Nights" at Chai's Island Bistro Sunday. She beat out eight other contestants for $1,000 cash and a share of $4,000 in prizes.
Island 98.5's Lanai Tabura hosted the finals, with Alan Arato, Marcus Bender, Jennifer "Paisley" Cua, Gerard Ellmore, Dave Hisaka, Jason Supaia, Kala'i Miller, Walter Makaula and Joseph "Seph 1" Rosales also in the crowd to watch Stone ...
BEER LOVERS, take note: This weekend marks the first time Hawaii residents can participate in the annual Samuel Adams Beer Lovers' Choice Contest.
Every year, the beer company asks consumers around the country which beer they would like to see added to the Samuel Adams Brewmaster's Collection. Head to the Wine Stop, 1809 South King St., from 1 to 5 p.m. Saturday to cast your vote between Sam Adams Dunkelweizen or Sam Adams Irish Red Ale.
Yes, the samples are free for those old enough to drink; call 946-3707 for info ...
MORE SATURDAY PICKS: Eugene "Slo" Carroll celebrates a birthday with his Tempo Valley bandmates at Jazz Minds Art and Cafe. They'll be joined by Quadraphonix and the NuSwing Project ... "Univibe 4.0" features DJs Richard "Humpty" Vission, Trek, G-Spot, Paul Brandon, Sovern-T, Betty and others at Pipeline Cafe; 18 and older welcome ... Cano Productions and Terren Zorne debut "Image," a new bi-weekly party at Longhi's. DJ H.O.P. will serve as resident waxmaster, with bodypainting by Jessica Chang available for the adventurous ...
GET A jump on next weekend by partying for a good cause on Wednesday.
"It's All About Helping" is a new monthly concert series at the Mai Tai Bar Ala Moana that benefits the Hawaii Food Bank. Ooklah the Moc is the featured band next week, followed by Marty Dread and Hot Rain on Oct. 10, B.E.T. on Nov. 14 and Typical Hawaiians on Dec. 12.
There's no cover charge for this one, but cash donations and canned goods will be accepted at the door. Performances start at 10 p.m. ...