---
FAST FACTS HAWAII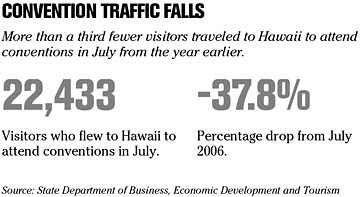 ---
HAWAII
WestJet expands Hawaii service WestJet is expanding its winter service between Canada and Hawaii.
The Calgary-based carrier has launched a direct flight between Vancouver, Canada, and Kona starting Jan. 13 and running through the middle of May.
The airline started daily service to Hawaii in December 2005, with flights to Oahu and Maui, and last year increased service to two flights a day. The new service to Kona will depart Vancouver at 6:30 p.m. and arrive at 10:58 p.m. Return flights will depart Kona at 11:59 p.m. and arrive in Vancouver the next morning at 7:38 a.m.
After the April closure of Harmony Airways, which flew from Canada to Hawaii and Las Vegas, WestJet took the opportunity to expand its service in Hawaii, spokeswoman Gillian Bentley said.
"We want to be seen as the operator to bring Canadians to Hawaii," she said.
Sale tickets to Kona start at $249 one-way, with regular fares starting at $369, excluding taxes and fees.
BAE Systems wins $49M contract
BAE Systems Inc. has won a $49 million U.S. Navy contract for work in Honolulu.
The five-year contract is for the development of a system that can identify and track camouflaged objects, the global defense and aerospace company said yesterday in a statement.
Under the Joint Multi-Mission Electro-Optical System project, BAE will develop non-intrusive aircraft sensors to detect submerged and concealed targets in tactical operations. The work is expected to be completed in June 2012.
BAE Systems Inc. is the U.S. subsidiary of U.K.-based BAE Systems PLC.
In October, BAE won a seven-year, $87 million contract from the U.S. Navy for Hawaii ship maintenance.
go! load factor up in August
Mesa Air Group Inc.
said yesterday that its interisland operation go! flew 71.5 percent full in August, up from 64.5 percent in the same month a year earlier.
The discount carrier's planes had flown a record 82.7 percent full in July, when its promotional fares went as low as $1.
go! carried 65,736 passengers in August, up from 62,367 in the same month last year.
Revenue passenger miles, or the total miles flown by paying passengers, totaled 9.3 million, versus 8.9 million in August 2006.
NATION
Mortgage rates edge up slightly WASHINGTON » After falling for two weeks, rates on 30-year mortgages edged up slightly this week.
Freddie Mac, the mortgage company, reported yesterday that 30-year, fixed-rate mortgages averaged 6.46 percent this week, compared with 6.45 percent last week.
The rate last week was the lowest since 30-year mortgages averaged 6.42 percent the week of May 31.
Rates on 15-year fixed-rate mortgages, a popular choice for refinancing, averaged 6.15 percent this week, compared with 6.12 percent last week.
Rates on five-year adjustable-rate mortgages fell to 6.32 percent, compared with 6.35 percent last week. Rates on one-year adjustable-rate mortgages, which had risen steeply last week, dropped to 5.74 percent from 5.84 percent.
Focus fanatics
Members of the Focus Fanatics and FocalJet.com were invited by Ford officials to get feedback on the car, which will be in showrooms in October. Above, Ford Focus enthusiast Brian DePietro photographed the 2008 Focus assembly line at the Wayne Assembly Plant in Wayne, Mich., yesterday.
---
BUSINESS PULSE