| | |
| --- | --- |
| | Newswatch |
---
Education targets safety in bay
The state Department of Land and Natural Resources has joined with a nonprofit group on a stewardship program at the Big Island's Kealakekua Bay State Historic Park and Marine Life Conservation District.
Kayak Alliance of the Islands will provide visitors to the bay safety briefings and brochures that also educate them on the protection of the area's natural and cultural resources. Their aim is to educate visitors on proper behavior around marine mammals and protection of the coral reef.
Spinner dolphins use the bay's shallow waters during the day to rest and feed their young. Federal law prohibits capturing, hunting, killing or harassing marine mammals.
Harassment includes annoying, pursuing or any act that disrupts the animals' behavior.
Visitors to the bay are asked to stay 50 yards away from dolphins.
Lanai center earns federal grant
The new Lanai Women's Center has been awarded a $400,200 federal grant as part of a national effort to increase health care in rural areas.
The community center opened more than a year and a half ago. "This grant will strengthen services of the nonprofit Lanai Women's Center, which is now expanding its mission to also serve men," said U.S. Sen. Daniel Inouye in a news release.
The community center is projected to serve 1,700 clients, many of whom are uninsured or underinsured and need primary health care.
$16.5M settlement affects isles
Hawaii is among 34 states receiving money from a settlement with Guidant Corp., a prominent manufacturer of implantable cardioverter defibrillators.
The device jump-starts a heart if it stops. The states began investigating Guidant when it was learned the company made changes in 2002 to correct a wiring problem that could cause the unit to short-circuit.
Guidant continued to sell those devices even after making changes to correct the problem. The company did not inform the public until May 2005.
Guidant has agreed to implement safety programs, publicly report safety information about the device and pay a $16.5 million penalty to the 34 states. Hawaii's share, $390,000, will go toward consumer education and enforcement of consumer protection laws, according to the state Department of Commerce and Consumer Affairs.
City agency solicits grant plans
The city Department of Community Services is soliciting grant proposals for programs assisting the Leeward side.
Individual grants from $25,000 to $100,000 will be awarded for public-service activities addressing homelessness, addictions, special health needs, seniors, low-income families and unemployment.
Grant applications must be filed by 4 p.m. Oct. 15. Applications are available online at www.honolulu.gov/dcs/sprojects.htm and at the department's office.
Mayor Mufi Hannemann also released $1.5 million for park improvements in the Leeward area.
| | |
| --- | --- |
| | Police, Fire, Courts |
---
Car crash hospitalizes man
A man described as in his 80s was in critical condition yesterday following a one-car crash on Kaukonahua Road between Wahiawa and Waialua, said Emergency Services Department spokesman Bryan Cheplic.
Emergency crews were sent to the top of the S-turns at about 7 a.m. and found a car that had gone off the road and overturned.
Police closed the road while they investigated the crash. The victim was taken to the Queen's Medical Center.
HONOLULU
1 shot, 1 beaten at nightclub One man was shot in the leg and another man was beaten early yesterday during a fight at a popular Kakaako nightclub, police said.
The victims were hospitalized in stable condition, and the injuries were not life-threatening, police said.
Shortly before 4 a.m., police responded to reports of a disturbance and gunfire coming from the Pipeline Cafe at 805 Pohukaina St.
Police said there was an assault in the bar, during which a man in his 20s was injured.
Police said shots were fired later outside the bar. A man was hit once in his calf, police said. The assault victim was taken by ambulance to the Queen's Medical Center. Police took the shooting victim to Queen's. The victims' ages were not available.
Detectives were at the scene until after dawn gathering information because witnesses were giving conflicting statements, police said.
Police were looking for a dark-colored vehicle that fled the scene, but could not provide a description of any suspects.
Police probe attack on couple
Police are asking for help in finding suspects in an alleged attempted murder in July.
At about 11:10 p.m. July 29, a man and a woman returning home saw a group of about four or five men by their parked pickup truck in front of 755 Umi St. in Kalihi.
Police said one of the men was seen pounding on the truck's window. When the woman confronted him, the men surrounded them and allegedly assaulted them.
One of the men allegedly tried to stab the male victim in the head, but the woman intervened and was slashed in the arm. The victims escaped and drove themselves to an area hospital for treatment.
Police were only provided with a description of the man seen pounding on the truck's window. He appeared to be in his 20s, about 5 feet 6 inches tall, 160 pounds, and was wearing a white T-shirt and dark long pants.
Anyone with information is asked to call CrimeStoppers at 955-8300 or *CRIME on a cell phone.
Gunmen sought in home robbery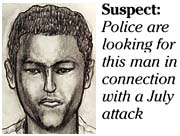 Police are looking for two suspects in an armed robbery at a McCully home.
A 46-year-old man was at home at about 7:30 a.m. Tuesday when two men armed with guns entered, demanded money and fled, police said.
Police did not provide descriptions of the suspects.