---
FAST FACTS HAWAII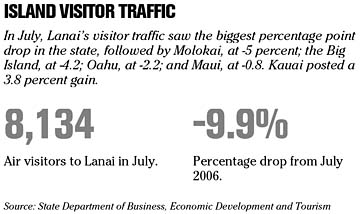 ---
NATION
MGIC ditches $5B Radian buy MILWAUKEE » Mortgage insurer MGIC Investment Corp. abandoned its $5 billion bid to buy rival Radian Group Inc. yesterday, saying it was in each other's best interest to concentrate on surviving in the faltering mortgage industry.
Radian had vowed to see the deal through when MGIC announced in August it wanted to back out. But chief executive officer S.A. Ibrahim said yesterday Radian didn't want to fight and instead needed to weather what he called "an industrywide scramble to survive."
Palm cancels new gadget release
NEW YORK »
Palm Inc.
has canceled plans to release a laptop-like gadget that was supposed to serve as a smart-phone companion, months after the product was announced and ridiculed by analysts.
The Foleo, which had been slated to ship this summer, looked like a small notebook PC with a 10-inch screen, full-sized keyboard and Bluetooth and Wi-Fi capabilities. It ran on a version of the Linux operating system and did not have a hard drive.
Early on, analysts dissed the Foleo. In particular, they questioned why consumers would want to carry yet another device when they already have PCs that are getting smaller and cell phones -- including Palm's own Treo -- that are getting smarter.
Ace Hardware has $154M shortfall
CHICAGO »
Ace Hardware Corp.
discovered an approximately $154 million shortfall on its books while preparing to convert from retailer-owned cooperative to for-profit corporation and likely will have to restate its financial results for the last five years, President and CEO Ray Griffith said yesterday.
Ace has called off the conversion plan and hired an audit consulting firm to help rectify an accounting problem which appears to date to 2002, Griffith told the Associated Press. The company may have to forego returning profits to store owners this year as a result, he said.
He said no money or inventory is missing but the Oak Brook, Ill.-based company has not been able to determine the source of the error.
WORLD
Chugging along Canadian Pacific Railway Ltd. said yesterday it will buy Dakota, Minnesota & Eastern Railroad Corp. and its subsidiaries for $1.48 billion cash, gaining access to the coal-rich Powder River Basin in Wyoming. Above, a Dakota Minnesota and Eastern Railroad engine pushed a boxcar at a railyard in Huron, S.D. in 2003.
BRIEF CASE
Cheaper treatment.
Teva Pharmaceutical Industries Ltd., the world's biggest generic-drug company, can start selling a lower-cost version of Novartis AG's Famvir, a treatment for genital herpes, a federal judge ruled.
Extra cash. The Bank of England offered extra cash to reduce "unusually high" overnight lending rates, reflecting concerns about dwindling credit spurred by the collapse of the U.S. subprime mortgage market.
Reverse split. Sun Microsystems Inc. intends to pull off a 1-for-4 reverse stock split to boost its share price and improve perceptions of the computing company's recent turnaround, its top two executives told analysts yesterday.
Open contracts. Air France-KLM is open to contacts with Italian flagship carrier Alitalia, Chief Executive Jean-Cyril Spinetta sayid, without detailing under what conditions it would make a bid for the struggling airline.
---
BUSINESS PULSE