5 nabbed in $5.9M Kauai pot bust
STORY SUMMARY »
Federal and state officials arrested and charged five people in a large-scale marijuana-growing operation on Kauai.
Officials seized about 6,000 marijuana plants in the dense jungle at the foot of Mount Waialeale, which is state land. With an estimated street value of $5.9 million, U.S. Attorney Ed Kubo called the case "the largest outdoor marijuana growing operation ever prosecuted" in Hawaii.
The investigation, called Operation Green Stream, captured the five suspects on videotape allegedly harvesting, cultivating and smoking the marijuana.
---
FULL STORY »
Five Kauai residents are accused of cultivating 5,922 marijuana plants on state land, and prosecutors believe the bust is a blow to the Hawaii drug industry.
The suspects were arrested Friday as federal officials seized the plants, which have a street value of about $5.9 million.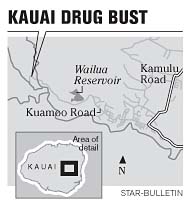 Edward Holland, his sons Robert and Ryan Bihm, Robert's wife, Melissa Bihm, and Mark Steven Darling have been charged on suspicion of violating a statute involving the cultivation of more than 1,000 plants.
"There was no way of hiding this operation," said U.S. Attorney Ed Kubo. "There are other people we suspect were involved, and the investigation is still continuing."
All except Holland face 10 years to life in prison if convicted. Holland was convicted in 1991 for possession of 97 pounds of marijuana and for mailing 2,242 grams. He spent four years in prison, and, if convicted this time, faces 20 years to life in prison.
The investigation, dubbed Operation Green Stream, began with a tip last year November that led Kauai police to conduct an air surveillance check at the end of Kuamoo Road and at the foot of Mount Waialeale, which is state land.
Police saw suspected plants and plastic growbags, and a ground check revealed gardening tools. Assistant U.S. Attorney Michael Kawahara said the area was about an hour's hike in from the end of Kuamoo Road.
This is a considerable effort for these people to conduct this cultivation operation," Kawahara said. "You're talking about a full-time job."
Kawahara said outdoor marijuana growing season in Hawaii begins around September, which is why law enforcement officials didn't set up stringent surveillance until July. Earlier this year, officers posted surveillance on a ridge on the other side of the valley to identify the suspects.
On July 30, officers videotaped the suspects examining the plants, shoveling and adding more dirt to the growbags and disbursing fertilizer.
On Aug. 13, the suspects were videotaped again, with Melissa Bihm allegedly rolling up a marijuana joint and smoking it with her husband, police said.
Kawahara said no firearms or cash proceeds were recovered, but officials did seize six trucks used in moving the marijuana.
"The appearance is that this has been going on for a number of seasons," Kawahara said.
Kubo said he speculates the marijuana was being grown for distribution locally as well as on the mainland.
Operation Green Stream is indicative of a growing trend. In 2006, 1.7 million plants grown on federal or state lands were destroyed, totaling $6.7 billion in street value.
State and federal officials also conduct an annual Operation Green Harvest, in which they seize several marijuana plants being grown on public lands. Officials did not have statistics on those busts immediately available.
"This type of blatant illegal activity demands federal attention, and it is our desire to keep them where they are right now, in our federal detention center," Kubo said.