Kau comes into bean
Coffee grown in the Big Island district wins international acclaim
STORY SUMMARY »
Something's brewing in Kau, the southernmost district of the Big Island. From the upper slopes of Mauna Loa to the ocean -- an area so large that Oahu could fit inside it -- thousands of acres once covered in sugar cane are now dedicated to macadamia nuts, eucalyptus and grazing space for cattle.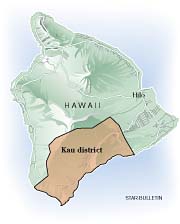 But above Highway 11, the road that bisects this rather remote district, a new crop is stirring up excitement -- coffee.
This fertile area was once the province of Kau Sugar Co., a C. Brewer company. More than 8,000 acres were in sugar production at one time, but it all ended in 1996, leaving hundreds of workers without jobs. Many ended up making the long drive to resorts in Kona or the Kohala Coast, but some chose to remain on the land and grow coffee.
Since the first trees were planted in 2000, Kau has been percolating as the newest of Hawaii's coffee regions, although the crop has remained in the shadow of Hawaii's famed Kona coffee, not to mention coffee from Kauai, Molokai, Maui and Waialua on Oahu.
Then, a few months ago, two coffees from Kau placed in the Top 12 in an international cupping competition sponsored by the Specialty Coffee Association of America, a coffee trade association representing 40 countries. Of 104 coffees entered, 14 were from Kau, all judged by a panel of 30 tasters for fragrance, aroma, taste, flavor, aftertaste and body.
Chris Manfredi, manager of Kau Farm and Ranch Co., entered the Kau coffees in the competition. His company purchased over 2,000 acres of land in Kau from C. Brewer, of which 280 acres are in coffee production, tended by 40 farmers.
"The climate and soil contribute to the quality of the coffee," said Manfredi. "But it's the farmers and the care they take from farming to processing -- it's their hard work and perseverance that's producing a great product."
---
FULL STORY »
Talk of coffee brings a smile to the face of Will Tabios, a former heavy-equipment operator for Kau Sugar Co. Today he's a coffee farmer, tending about 5,000 trees he planted above Pahala, an old sugar plantation town, population 1,600. Last year he harvested about 80,000 pounds of coffee cherry, the ripe red beans that are dried and ultimately roasted for coffee.
Not only is Tabios happy to be farming, he's thrilled to be a coffee farmer. Tabios' Will and Grace Farm Rising Sun Coffee (named for himself and his wife, Grace) placed sixth in the annual Specialty Coffee Association of America's 2007 cupping contest held in California in May.
Tabios' coffee was one of two that placed in the Top 12. The other, from Aroma Farms in Kau, placed ninth.
Perhaps even better than recognition for Tabios is the fact that today he can sell his roasted coffee for $17 a pound, while the bulk of his coffee cherry goes to a processor in Kona at $1 a pound.
John Ah San, a former USDA and state food inspector, traced the history of coffee in the Kau area to the '40s and '50s, when a couple of families starting growing coffee in Pahala as a side project while working the sugar plantations. Their coffee had no boutique allure, as Kona coffee does today. "Back then it was just coffee," Ah San said. "There was no trademarking."
Coffee was also grown in Paauilo on the Hamakua Coast above Hilo, and in the Puna and Keaau areas, added Ah San. And of course, there was Kona coffee, which has become Hawaii's premium brew.
When Kau Sugar closed in 1996, sugar workers were offered options for working the land. The Rural Economic Transition Assistance program targeted coffee as a project and more than two dozen farmers signed up. "Eighty percent of those who started are still here," said Ah San, who helped establish the project in Pahala.
What makes Kau coffee different from, say, Kona coffee? "The coffee seed itself comes from Kona stock," said Ah San, who, in addition to growing coffee himself, manages several other coffee farms. But as with any agricultural crop, the same seed planted in a different locale can produce very different results. Climate and soil come into play, as well as the care a farmer administers to his plantings.
Pahala rises in elevation from 700 feet to 2,100 feet, with most of the coffee planted at 1,100 feet. It's cool and wet, especially at the higher elevations. Afternoon cloud cover, mist and shade mirror the climate of North and South Kona, where coffee proliferates. Annual rainfall is 40 to 60 inches per year; none of the coffee acreage is irrigated.
The upper lands were rich in mineral properties, especially sulfur, deemed to be especially good for sugar cane production, according to documents regarding the Hawaiian Agricultural Co., also known as Pahala Sugar.
But after years of sugar production, "there are no trace minerals in the ground, so in addition to general fertilizing, we have to add back the minerals," said Ah San.
Still, he said, "The soils separate us from Kona. The soil has a higher pH; it produces a mellower and sweeter coffee."
One of the greatest challenges facing this young coffee-growing region is a lack of labor to pick coffee. As with other old sugar plantation towns, former workers have turned to the tourist industry, driving long distances to work at resorts in Kona and along the Kohala Coast, where wages are better than on the farms.
Coffee cherries are picked by hand once they turn bright red. In Kau the harvest can begin in August and last until May. "We have eight to 13 cycles here," explained Ah San. "In the lower areas, the picking starts earlier and we work uphill, then cycle back."
Once picked, coffee cherries need to be stripped of their pulp, fermented and washed, then dried in the sun. The remaining papery husk is removed to reveal a clean green bean ready for roasting.
Processing equipment and facilities have yet to be built in Kau, which means farmers must transport their stock to Kona, about 75 miles away.
Then there's the issue of marketing.
Christopher Manfredi, manager of Kau Farm and Ranch Co., with the assistance of Michelle Gambia, whose family raises beef cattle and pigs in Kau, is trying to steer the coffee farmers in the right direction.
"We're exploring marketing, branding, processing; we want to develop a long-term strategic plan," said Manfredi. "We want coffee to expand; we want to support the farmers."
The recognition won at the SCAA cupping competition has brewed up excitement in the community. Kau coffee has attracted attention from the likes of chef Alan Wong, who has already put several Kau coffees on the menu at his King Street restaurant in Honolulu.
But Manfredi and others are treading carefully, concerned about maintaining a sufficient supply that is of good quality and consistency.
No doubt next year's competition will be viewed with great anticipation. No other Hawaii coffee was entered this year, but next year it will undoubtedly be different.
"We don't want to get into a competitive situation with Kona," said Manfredi. "They've earned the success they now enjoy. It's all good for the state of Hawaii, Hawaii coffee and Hawaii agriculture."
A new brew
On Oahu, Kau coffee is served at Alan Wong's King Street restaurant. To purchase Kau coffee, contact these growers:

» The Rising Sun/Will & Grace Farms: (808) 557-4441; gwtabios105@yahoo.com

» Kau Alii: (808) 928-0606; aliicoffee@yahoo.com

» Rusty's Hawaiian: (808) 928-8916; lorie_o@earthlink.net

» Pumehana's Hawaiian Coffee: (808) 928-8534

» Aikane Plantation: (808) 927-2252; aikaneplantation@hawaii.rr.com

» Kau Royal Coffee: (808) 928-8558

Coffee is sold on the Big Island at:

» Naalehu Farmers Market: 8 a.m. to noon Saturdays; 10 a.m. to 2 p.m. Wednesdays; Ace Hardware lawn

» Pahala Town Cafe: 96-3163 Pikake St., Pahala; (808) 928-8200

» Moaula Cloud Rest Coffee: Roadside stand at 49-mile marker between Pahala and Volcano; (808) 928-8054; www.kaucoffee.com