---
Isle chefs collaborate on book
The first edition was called "Thirty Three Chefs," so the natural follow-up would be -- "Thirty Four Chefs," of course.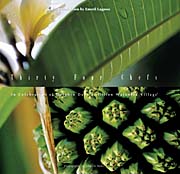 The cookbook incorporates recipes from chefs that participate in the Dolphin Days festival, held annually at the Hilton Waikoloa Village. Proceeds benefit the Dolphin Days charities: the Pacific Marine Life Foundation and Hawaii Shriners Hospital for Children.
"Thirty Three" was released in 2003 to mark the 10th anniversary of Dolphin Days. "Thirty Four" highlights Big Island products, from aquaculture to agriculture.
The cookbook sells for $34 plus tax. Order it online at www.hiltonwaikoloavillage.com or www.kohalaspa.com.
Poetry contest seeks entrants
Hawaii Pacific University is seeking entries for the James M. Vaughan Award for Poetry.
Those interested should send three poems with a 100-line limit each, with name, address, phone number, e-mail address and names of poems on a cover page, and a five-line biography.
Mail to James M. Vaughan Award for Poetry, 1060 Bishop St., LB 7A, Honolulu, 96813, by Dec. 1. Participants must have resided in Hawaii for at least one year.
The winner receives $500 and the work will be featured in Hawaii Pacific Review, the annual literary magazine published by HPU. Call 544-1108 or e-mail pwilson@hpu.edu.
Theater offers 2 new classes
Diamond Head Theatre is expanding its performing arts programs with two new classes:
» "Scene Shop Basics" teaches students to build a set by working on a DHT play.
» "Let's Move Through Cancer" teaches the art of dance, but also how movement and expression assist in the healing process.
The fall session begins Monday. Call 733-0277, ext. 306, or visit www.diamondheadtheatre.com.