---
FAST FACTS HAWAII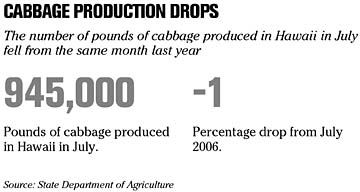 ---
HAWAII
Northwest cuts isle-Alaska flights Minneapolis-based Northwest Airlines has decided to drop its seasonal Alaska-Hawaii flights, the company said yesterday.
The flights, which had been scheduled to run Dec. 19 through May 1 with 757 aircraft, were pulled because of a re-evaluation of the company's resources, spokesman Darren Shannon said in an interview.
Seattle-based Alaska Airlines announced in May that it would begin daily flights from Seattle to Honolulu on Oct. 12. Its seasonal service from Anchorage to Honolulu will run Dec. 9 through mid-April. Shannon declined to comment on the impact of that service.
Passengers who bought tickets on the cancelled flights will be rebooked through Alaska or through gateway operations on the West Coast, Shannon said.
WORLD
ArcelorMittal merger takes step LUXEMBOURG » ArcelorMittal SA absorbed Mittal Steel Co. NV, the first of two steps to complete the merger of Luxembourg-based Arcelor SA and Rotterdam's Mittal Steel into the world's largest steelmaker.
The first stage took effect yesterday after last week's vote by Mittal shareholders, ArcelorMittal said in a statement. The next step will require Arcelor investors to vote on taking over ArcelorMittal SA and assume that name. Mittal Steel Class A and B shares stopped trading Friday.
"We expect to publish details of the second step of the merger process before the end of September," ArcelorMittal spokesman Jean Lasar said from Luxembourg.
KB to post up to $954M loss
FRANKFURT »
IKB Deutsche Industriebank AG
, the German bank that's being bailed out after investing in U.S. subprime loans, will post a loss of as much as 700 million euros ($954 million).
The bank will curtail investments in international securities funded by commercial paper and expects future earnings will be "significantly lower" than in previous years, Chief Executive Officer Guenther Braeunig said on a conference call yesterday. Profit at Dusseldorf-based IKB amounted to 179.6 million euros in the 12 months ended March 31.
Cosco buys assets from parent
HONG KONG » China Cosco Holdings Co., Asia's largest container shipping line, agreed to pay 34.6 billion yuan ($4.6 billion) to buy assets including cargo transport businesses from parent
China Ocean Shipping (Group) Co.
China Cosco will pay for the acquisitions by issuing shares, borrowing money and by using internal resources, it said in a statement filed to Hong Kong's stock exchange yesterday. The asset purchases need shareholders' approval, the filing said.
Chinese companies are seizing on investor enthusiasm that has made the country's surging stock market the world's best performer this year. Ping An Insurance (Group) Co. raised 38.9 billion yuan in February, the biggest stock offering so far.
BRIEF CASE
Wheat record.
Wheat rose to a record in Paris as traders speculated that Russia, the world's fourth-largest exporter of the grain, may curb shipments to restrain domestic food prices.
Energy giant. United, Suez SA and state-owned Gaz de France hope to form a global energy giant that the companies claim will be better placed to compete against players such as Russia's OAO Gazprom.
Steady rate Australia's central bank probably will keep the benchmark interest rate unchanged tomorrow as it seeks signs that last month's increase to an 11-year high is enough to curb inflation.
Union leader. Germany's biggest industrial union, IG Metall, nominated Berthold Huber, a top union deputy for four years, to take over as its leader later this year. The union represents 2.3 million workers in Germany's key manufacturing sector in wage talks with employers.
---
BUSINESS PULSE