---
FAST FACTS HAWAII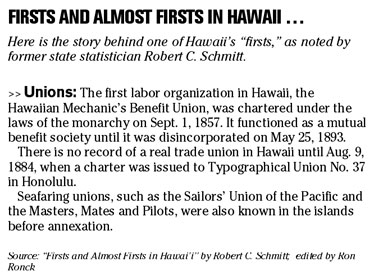 ---
NATION
Teachers head for wealthy areas
Neighborhood schools serving minorities and the poor in the U.S. are losing teachers to wealthy districts, according to a study.
"High-minority" districts are almost twice as likely as richer areas to struggle at retaining math and science teachers, according to the report, released last week by the American Institutes for Research, a nonprofit group based in Washington.
The researchers looked at "highly qualified" teachers, as judged according to standards under the No Child Left Behind law. In schools for the poor and minority groups, even teachers in that category are generally less experienced than their counterparts in richer schools, according to the report, with less likelihood of having a degree in the subject taught.
More than 90 percent of teachers across the U.S. are deemed "highly qualified," according to the report. The study was based on data gathered between October 2004 and March 2005 from 8,791 teachers at 1,483 public schools throughout the country.
60% 'very happy' with their work
Three in five Americans say they are "very happy" with their work, according to a nonscientific survey conducted by hourly job Web site
SnagAJob.com
.
Those most likely to whistle while they work were employees living in the West, Hispanics, and married people.
The survey also found that more than half of hourly workers consider their job a full-time career, not just a step toward a salaried position, and almost 40 percent reported a household income of $50,000 or more.
The telephone survey was conducted July 31 to Aug. 8 and included more than 1,000 employed adults.
Monster.com lists top openings
A few industries will open their doors the widest to this year's crop of college graduates making their first foray into the working world.
Entry-level workers will find the most opportunities in the following industries, according to research by MonsterTRAK, the student division of employment Web site Monster.com.
» Business operations, human resources and financial services. This sector offered almost one-quarter of all job opportunities for entry-level applicants.
» Sales and marketing. Brand and product marketers represented the fastest growing segment in the category.
» Architecture and engineering. Naval architects and marine engineers were most highly sought by employers.
» Computer, information technology and mathematical. Jobs in programming and computer maintenance and support are among the most desired.
» Office, administrative and customer support. The most popular jobs include administrative assistant and customer service representative.
MonsterTRAK rated the top five industries by monitoring the number of entry-level positions posted to its site from July 1, 2006 to June 30, 2007.
Don't mess with fantasy football
With the fantasy football season about to kick off, some employers are about to suffer a penalty to their bottom line.
Companies will lose up to $435 million a week paying workers who are distracted by their virtual sports teams, according to an estimate by employment consultants Challenger, Gray & Christmas.
The firm's figures rely on data from the Fantasy Sports Trade Association and West Virginia Wesleyan College showing that 17 million Americans play fantasy sports annually, with the average participant earning $80,000 a year. The typical fantasy football player spends an estimated 50 minutes at work each week managing their teams, totaling $32 a week per player based on the average salary. Plus, the football season lasts 17 weeks.
Companies should resist the urge to clamp down on workers' access to fantasy sports Web sites, however, said CEO John Challenger. The dampened employee morale that would result from such a ban far outweighs the lost productivity, he said.
Employers should instead encourage workers to join a company-organized league, which can boost workplace collaboration, Challenger said.
"It would be shortsighted to lord over your people and prevent them from personal time, especially when it's tied in with other members of the company," he said.
---
BUSINESS PULSE