---
FAST FACTS HAWAII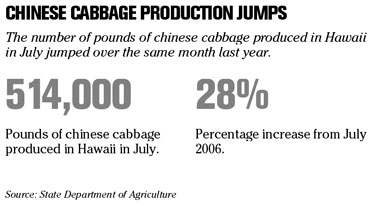 ---
NATION
Sharp to ship LCD screen scanner
TOKYO » Japanese electronics maker
Sharp Corp.
plans to start shipping a new touchscreen liquid crystal display with scanner functions for mobile electronic devices this September, the company said yesterday.
Osaka-based Sharp, known for its Aquos brand of LCD TVs, said in a statement that the new screen will be thinner and offer clearer, higher quality images than existing touchscreen displays.
The screen can respond to more than one touch at a time, allowing users to perform tasks by making tapping, pinching and squeezing motions with their fingers, Sharp said.
The product's thinness comes from the use of embedded optical sensors like a scanner, it said. Documents like business cards can be scanned when placed on top of the screen.
Hyundai union votes for strike
SEOUL »
Hyundai Motor Co.
said today its labor union has voted in favor of going on strike amid annual wage negotiations.
According to an e-mail from the automaker, 28,243 union members voted in favor of the strike, while 12,544 opposed it. It was not immediately clear, however, when a walkout might begin.
Strikes at Hyundai are common. Workers have already walked off the job twice this year. The union has gone on strike every year but one since it was founded in 1987.
According to the Hyundai e-mail, 40,995 union members, or 91.4 percent of the total membership of 44,867, cast ballots.
WTO to look into China subsidies
GENEVA » The World Trade Organization opened a formal investigation today into allegations by the U.S. and Mexico that China is providing illegal subsidies for a range of industries.
The two countries accuse Beijing of using WTO-prohibited tax breaks to encourage Chinese companies to boost exports, while imposing tax and tariff penalties to limit purchases of foreign products in China.
Beijing blocked a separate probe of its rules for protecting intellectual property rights. But the move will probably only delay the creation of a panel until the next meeting of the WTO's dispute body in September, when Washington can bring up the issue again.
Vivendi earnings drop 49 percent
PARIS » Entertainment and telecom conglomerate
Vivendi SA
reported yesterday that its second-quarter earnings dropped 49 percent from a year earlier, when it had a gain from an asset sale, and said it is sticking to its forecast for the full year.
Net profit at the French company fell to 594 million euros ($810 million) from 1.15 billion euros a year earlier. Last year's figure was inflated by the gains on the sale of Vivendi's shares in chemicals company DuPont Co. for nearly $700 million (512 million euros).
Paris-based Vivendi is the owner of Universal Music Group, the world's biggest music company, Canal Plus television, Vivendi Games and telecom operators SFR and Maroc Telecom.
HAWAII INC
Board Elections
» The Sales & Marketing Executives International Honolulu chapter has announced its directors for 2007-2008: Officers are
David C. Livingston
, president;
Dave Erdman
, vice president and president elect;
Michael Curtis
, treasurer;
Kealii Fisette
, secretary; and
Richard Emery
, immediate past president. Directors at large are
Co Le
,
Matthew Muccio
,
Mike Polley
and
Jason Taylor
. Ex-Officio are
Bill Gaeth
, past president;
Pete Martinez
, board member;
Jim Myers
, board member;
Chuck Reindollar
, past president; and
Janet Scheffer
, past president. Executive director is
Stephanie Uyeda
.
» The Manoa Valley Theatre board has announced its new officers and members for 2007-2008: Officers are Jeff Portnoy, president; Mike Rosenberg, vice president; Neil W. Field, secretary; and John F. Maughan, treasurer. New board members are Norb Buelsing, Ian Fitz-Patrick, Dale Hahn, Russell H. Masunaga, Richard S. Morris, Dana-Ann Takushi and Ron Wright. Continuing board members are Janis Akuna, Donna Bebber, Sharon Billingsley, Kelvin Bloom, Anne Butac, Darilyn Fernandez, Cathy Foy, William Lindemann, Guy Merola, Jim Myers, Barbara Nickerson, Ramona Sayre, Mark Taylor and Alice Tucker.
Certifications
» The National Pest Management Association has approved
XtermcoInc. Hawaii
with the QualityPro Schools designation. The designation represents the company's overall service quality provided to local educational facilities. Companies that receive the designation must meet the qualification criteria, which includes business operations, consumer relations, environmental stewardship, technician training and school-specific integrated pest management techniques.
---
BUSINESS PULSE