Homegrown talent takes to the tube
THERE WAS quite a local presence on NBC's late night lineup earlier this week. First up was local boy
Justin Young
, who moved to the mainland and has apparently dropped the "Kawika" from his name when performing. He appeared on "The Tonight Show with Jay Leno" Monday night as part of the backing band for
Colby Caillet
.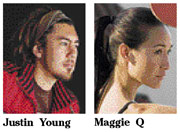 Watching Young strum his guitar on national television was a pretty big deal in itself, but he wasn't the only musician with Hawaii ties playing alongside the Southern California songstress. Former residents Tim Fagan and Mike White are also in the band, and cameras captured them shaking hands with Jay Leno and guest Drew Carey as "The Tonight Show" went off the air.
Then on "Late Night with Conan O'Brien," Millilani High School graduate Maggie Q made an appearance in support of her role in the movie "Balls of Fury." She even got Conan O'Brien to come out from behind his desk and attempt a few karate kicks, to the delight of fellow guest Bob Saget and everyone in the studio audience ...
THE START of the fall semester at local college campuses brings with it a bunch of new parties.
BC Productions and Wicked World Productions team up to present "Chi" at Chai's Island Bistro on Friday. Cover is $10 all night for the 21-and-over, with $2 you-call-it drinks from 10 to 11 p.m.
On Saturday, Lotus Soundbar hosts "Amplify," a new party on the first and second Saturdays of the month with MC Kelvin Zero and DJs Packo, Technique, D-Box, Revise, BillyZane and Antikkz. It's also the return of the Audiolab crew, with DJs Bass-X, Konception, Kause and MC Enemy helping to keep the 21-and-over party moving in three rooms until 4 a.m.
And on Sept. 11, Russell Tanoue kicks off "Happy Tuesdays" on a weekly basis at the E&O Trading Company. I don't have a lot of information about this one, but you can bet there will plenty of scenery to look at once it's underway ...
LOCAL COMEDIAN Augie Tulba checked in earlier this month to remind fans about the second season of "The Augie Show," premiering at 7 p.m. Sunday on OC16.
"I'm really excited about season (two)," he said via e-mail. "And season one should be out on DVD around the second week in September with tons of bonus features, including a portion of my ... routine at the Blaisdell Arena."
Tulba returns to the Big Island on Saturday for a show in Volcano, followed by a trip to Guam next weekend and Southern California at the end of the month. He'll fly to Oregon in October, then take his "Main Event" comedy set to the neighbor islands in November where he will perform "in the round" once again ...
SUNDAY'S PICKS: Pacific Sounds Outernational and SiQ Records team up for "Rudegyal Retreat," a new weekly at Lotus Soundbar. DJs Jahson the 45 Revolver, Liloa and Wigs will spin a variety of reggae with special guest DJs stepping to the decks each week ... Flash Hansen and Matty Hazelgrove present their final "SKIN" poolside party of 2007 at the Sheraton Waikiki. The fun runs from 2 to 8 p.m. and features an affordable $5 cover charge with DJs KSM, Rayne and Epic One taking care of the music. Star 101.9's Maleko will host, and "Ed Hardy Butchure Couture Artist to the Stars" Adam Saaks will be on hand to shred T-shirts for the ladies ... Furious Styles Productions celebrates its first anniversary at the Living Room with Architechs Hawaii, with a special four-hour set on four turntables by DJs Compose, Delve and XL. DJs Durtie Rice and Zack Morse will also be there ...