---
FAST FACTS HAWAII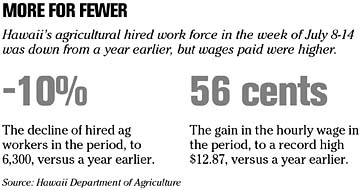 ---
NATION
Mortgage rates at 3-month low WASHINGTON » Rates on 30-year mortgages fell this week to the lowest level in three months.
Freddie Mac, the mortgage company, reported yesterday that 30-year, fixed-rate mortgages averaged 6.45 percent. That was down from 6.52 percent last week and was the lowest level since the week of May 31, when rates stood at 6.42 percent.
Rates on 15-year fixed-rate mortgages, a popular choice for refinancing, averaged 6.12 percent, down from 6.18 percent last week. But rates on five-year adjustable-rate mortgages, rose slightly to 6.35 percent, compared with 6.34 percent last week. Rates rose more steeply for one-year adjustable-rate mortgages, climbing to 5.84 percent, up from 5.60 percent last week.
ITT snags $1.8B contract
WASHINGTON » A team led by defense contractor
ITT Corp.
yesterday won a government contract worth up to $1.8 billion to build the first portion of a new satellite-based air traffic control system.
The Federal Aviation Administration, which awarded the contract, said upgrading the system used to manage commercial and general aviation traffic will help reduce congestion on runways and in the skies, and do so at a lower cost than the existing radar-based system.
The full upgrade of the air traffic control system is expected to cost more than $15 billion over 20 years.
Dell earnings up 46 percent
DALLAS »
Dell Inc.
said yesterday that preliminary second-quarter earnings jumped 46 percent on stronger sales of enterprise products and services, improved average selling prices and favorable component costs.
The computer maker said it earned $733 million, or 32 cents per share, in the three months ended Aug. 3, compared with $502 million, or 22 cents per share, a year ago. Sales rose 4 percent to $14.8 billion.
Reduced sales hit Sears profits
CHICAGO »
Sears Holdings Corp.
posted its lowest profit in nearly two years yesterday after another round of weak sales at Kmart and Sears stores sent the retailer's net income tumbling 40 percent.
Led by hedge fund wizard Ed Lampert, Sears has seen much of its recent financial success boosted by investment income. But after months of curtailing expenses, the company continues to be vexed by falling sales and profit margins.Net income for the period ended Aug. 4 fell to $176 million, or $1.17 per share, from $294 million, or $1.88 per share, a year earlier, when the company was helped by a one-time gain. Revenue dipped 4 percent to $12.24 billion.
Mortgage woes hurt H&R Block
KANSAS CITY, Mo. »
H&R Block Inc.
yesterday cast new doubt on the pending sale of its troubled mortgage lending arm, saying it's trying to renegotiate sales terms as credit markets continue to deteriorate.
The Kansas City-based company said if negotiations are successful, it would stop selling new loans through Option One Mortgage Corp., have several closing requirements waived and try to get the buyer, a subsidiary of Cerberus Capital Management, to close before the current deadline of Dec. 31.
H&R Block will exit the mortgage business regardless of negotiations with Cerberus, Ernst said, but added "when and how exactly that would happen is fairly fluid at the moment."
[ HAWAII INC. ]
Promotions
» Durrant Media Five has announced the following new intern architects:
* Chase Kersten will assist the design team for a recently acquired beach resort project Japan. He previously was an intern architect for Ultimate Sports Entertainment.
* Chris Baze will assist the design team for a mixed-use development in San Francisco. He is one of 11 AutoCAD 2007 certified users in the United States and has extensive experience in architectural modeling and other software applications.
» Prudential Locations has announced the following new hires:
* Cynthia White has been named marketing manager. She will be responsible for external communications for the Fine Homes properties division, helping develop programs to acquire and retain clients, and helping agents promote their properties. She previously was at Wells Fargo-PCS, ICES and Starr Seigle Communications.
* Dean Kim has been hired as sales coach. He will be responsible for increasing agent productivity and motivation, and helping agents prepare their nominations for the Aloha 'Aina awards. He previously was at the Queen's Health Systems, PharmaRx Hawaii and Coldwell Banker Pacific Properties.
» Starwood Hotels & Resorts Hawaii has announced the following promotions:
* Michael Troy has been promoted to director of advertising and promotions, from area director of sales and marketing for Hawaii and French Polynesia. He has served the company since 1981 and has more than 25 years experience in operations, sales and marketing in the hospitality industry.
* Candice Kraughto has been promoted to director of public relations, from regional communications manager for Hawaii. She previously was account supervisor for Stryker Weiner & Yokota Public Relations, administrator of communications and information for the Office of the Governor and an assistant director of graduate admissions and marketing for Hawaii Pacific University.
* Jackie McBride Tsukiyama has been promoted to director of sales technology and administration, from director of sales technology. She joined the company in 1980 in positions including senior sales analyst and manager of sale automation.
» First Hawaiian Bank has announced the following management promotions:
* Kendall J.H. Wong has been promoted to vice president and area manager, Kaneohe branch, from vice president and Kaneohe branch manager. He has been with the bank since 1992.
* Katharine H. Kam has been promoted to assistant vice president and Mililani branch manager, from branch manager. She joined the bank in 2000.
* Paula Ogimi has been promoted to Ewa Beach branch manager, from personal banking officer. She has joined the bank in 2003.
* Shari Ann K.S. Minato has been promoted to assistant vice president and manager of the money processing center, from operations manager. She joined the bank in 1981.
---
BUSINESS PULSE