---
FAST FACTS HAWAII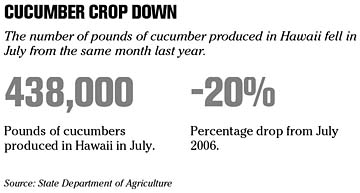 ---
HAWAII
Isle contractor in Vegas venture Dick Pacific Construction Co. Ltd. and Pinnacle Las Vegas LLC have created a joint venture to develop and operate the $740 million condominium resort project in Las Vegas.
The 1,100-unit project, known as the Pinnacle, is slated for a 12-acre site less than two miles from the Las Vegas Strip and adjacent to the Orleans Casino/Hotel and Arena.
Pinnacle will feature two 36-story towers connected by "sky bridge" suites and include 31 poolside bungalows, plus restaurants, boutiques and a full-service spa and fitness center.
Dick Pacific, a subsidiary of Pittsburg-based Dick Corp., will work as the chief operating officer of the project, responsible for day-to-day activities at the resort. The company also was a major contractor on the development of the Venetian Casino Resort.
Cunningham moves up at KHON
KHON-TV
weekend news anchor Jai Cunningham has been promoted to weekday anchor for the 5 p.m. local news.
He will co-anchor the show alongside Tannya Joaquin, who has worked solo since anchor-reporter Ron Mizutani left the station April 17 for a job at Hawaiian Telcom.
"Jai and Tannya have great chemistry together and will make a great team on Hawaii at Five," said News Director Lori Silva.
Cunningham joined KHON full-time in 1992, beginning as a sports reporter. He moved to weekend sports anchor, then sports director, and in 2003 joined the news department as weekend anchor.
CPB opens new branch
Central Pacific Bank
will open its 39th branch statewide today in Pearl Highlands.
The 5,000-square-foot branch, next to Wal-Mart at 1030 Makolu St. in Pearl City, will be staffed by 11 employees.
Hours of operation will be 8:30 a.m. to 4 p.m. Mondays through Thursdays, 8:30 a.m. to 6 p.m. on Fridays and 9 a.m. to 12:30 p.m. on Saturdays.
NATION
Fresh approach Amazon.com is testing its new grocery delivery service, Amazon Fresh, in a handful of Seattle neighborhoods. The company has deployed a fleet of 12 grocery delivery trucks. Customers can also pick up fresh grocery orders at a small number of locations in the area. Above, Amazon Fresh delivery man Tim Wilkie prepared a grocery order for delivery to a residence on Mercer Island, Wash., last week.
BRIEF CASE
Going private.
Alltel Corp. shareholders overwhelmingly approved a $24.7 billion buyout yesterday that put the wireless company in the hands of two private investor groups.
Cigarette spinoff. Altria's spinoff of its Philip Morris International cigarette business will shrink the company to include Philip Morris USA, the biggest cigarette maker in the U.S., and a 29 percent stake in London-based SABMiller PLC, which brews Miller Lite beer.
Executive resignation. Delta Air Lines Inc. said yesterday that Chief Operating Officer James Whitehurst, who was passed over for the carrier's top job, has resigned.
[ HAWAII INC. ]
New hires / Promotions
» SMG Hawaii has announced the following new hires for the Hawaii Convention Center:
Johnny Cantillo
has been named capital improvement program manager. He previously served as project on-site representative for ALSC Architects in Spokane, Wash. and has more than 20 years of experience in construction and project management.
Wayne Goodwin
has been named security and guest services manager. He previously served as a police officer with the Honolulu Police Department, director of security for the Aqua Island Colony Hotel and similar roles at the Kahala Mandarin Oriental Hawaii and Ala Moana Hotel.
Helene Fernandez
has been named catering sales manager. She previously served as a catering coordinator at Bally's and at Paris Las Vegas and has more than 10 years of experience in catering and administrative services.
Qing Chen
has been named sales representative for China. He will promote the convention center to the Chinese meetings and events markets.
» Mobi PCS has named Andy Honda as retail sales manager of its Salt Lake Shopping Center location. He will be responsible for sales performance, product inventory and merchandising, and hiring, training and management of staff. He previously served as retail manager for Wireless Associates, retail sales representative for Wireless Express and T-Mobile and as a utility technician for Ohana Telecom & Construction.
» Doctors Ernest Scheerer, Bruno West and Randy Kam have hired Dr. Travis Chapman to their dental practice located in the Dillingham Transportation Building. They have practiced at the location since 1965.
» Island Insurance Co. has promoted Paul Iijima to vice president and controller from assistant vice president and controller. He will continue to oversee the company's accounting and finance activities, which include reinsurance accounting and accounts payable functions, preparing and analyzing monthly financial statements for Island Insurance, Tradewind Insurance and Island Premier Insurance, and coordination and preparation of quarterly and annual statements. He previously served as supervising senior auditor for KPMG and has more than 16 years of experience in the insurance industry.
» Shioi Construction has promoted Michael D. Goodnight to executive vice president from vice president. He will continue to oversee the company's Creative Partition Systems division and will also join the board of directors. He has served the company since 1992 and has 28 years of experience in the drywall industry.
» Maui Youth & Family Services has hired Karrie Palmer as director of community services. She will oversee the outpatient prevention and treatment programs for the agency, including intensive, intensive outpatient and case management services. She previously served at the agency from 1999-2005 as clinical supervisor of intensive services and at the County Mental Health Division in Bend, Ore.
---
BUSINESS PULSE