Fitness becomes an active goal
Half of Hawaii's adults and seven out of 10 high school students don't get enough exercise, and the state wants to do something about it.
"Everyone knows there's an obesity epidemic, but what we don't recognize is that there is a physical inactivity epidemic as well," Health Director Chiyome Fukino, M.D., said yesterday in releasing Hawaii's first "Hawaii Physical Activity and Nutrition Plan."
The 56-page plan, developed by the Health Department with other agencies and community groups, spells out strategies for getting people in Hawaii to eat better and exercise more.
It also highlights health statistics for the state. Although Hawaii fares better than the national average on some measures, such as obesity levels, Lt. Gov. James "Duke" Aiona suggested that the state focus on improving its own record rather than comparing itself to the rest of the country.
"Don't worry about whether you're leading the league in scoring," he said. "It might be a bad average. Let's just focus in on what we're doing in Hawaii."
Here are some Hawaii data spotlighted yesterday:
» The adult obesity rate has doubled , to 20 percent in 2005 from 9 percent in 1990.

» The diabetes rate has also doubled, to 8 percent in 2006 from 4 percent in 1994 .

» Just a quarter of adults and 20 percent of high school students eat the recommended five servings of fruits and vegetables daily.

» Only 30 percent of high school students and 52 percent of adults get enough exercise.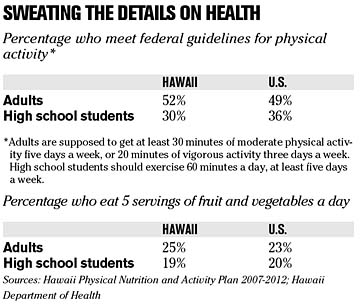 ---
Federal guidelines for physical activity for high school students have been raised to 60 minutes of moderate or vigorous activity, at least five days a week. Adults are supposed to get at least 30 minutes of moderate physical activity five days a week, or 20 minutes of vigorous activity at least three days a week.
Fukino said the effort to promote exercise and healthy eating has to cut across society, including workplaces, schools and urban design.
"We've designed walking out of our cities, we've designed bicycling out of our cities," she said. "So the question is, how do we re-engineer our cities to encourage physical activity? Look at Europe. You have scads of bicycles everywhere."
The plan outlines numerous strategies such as encouraging employers to promote healthy food choices and physical activity; improving nutrition on campuses and requiring daily physical education; making it safe and easy for students to 0walk or bike to school; and getting more health insurers to cover the cost of classes on physical activity and nutrition.
Sen. Suzanne Chun Oakland noted that physical education is not mandated in public elementary schools, and is getting short shrift in the effort to focus on academics.
"That's where we're supposed to be encouraging them to develop good habits," she said. Her daughter wanted to ride her bike to school, but there are no bike racks. Chun Oakland said she hopes the new plan will help broaden support and funding for physical activity in and out of school.
The Health Department is forming a Physical Activity and Nutrition Coalition to try to translate the plan into action. Interested agencies and individuals can contact the Healthy Hawaii Initiative at 586-4486.