---
MORSELS
Japan culinary icon to host lunch
Harumi Kurihara, one of the foremost observers of Japan's culinary scene, will host a cooking demonstration and luncheon Sept. 8 at the Halekulani.
Imagine Martha Stewart transported to Japan and you'd have some clue to Kurihara's influence. She has 23 cookbooks (her first was "I Want to Hear People Say it's Delicious"), publishes the magazine Suteki Recipe, appears on television and has a retail housewares line.
Her appearance, from 11 a.m. to 3 p.m., is part of the Halekulani Living series. It will include Kurihara's techniques for working with international ingredients, presentation and plating.
Admission is $75 and includes a signed cookbook. Reservations required: 931-5040.
'Devour Hunger' and help Foodbank
Eat out for a good cause tomorrow, as Honolulu magazine hosts "Dine Out, Devour Hunger," to benefit the Hawaii Foodbank.
Participating restaurants will donate a portion of each diner's bill that day to the foodbank.
To contribute, have a meal at Big City Diner at the Ward Entertainment Center, Buzz's Steakhouse Pearl City, Chai's Island Bistro, David Paul's Lahaina Grill, Hukilau Honolulu, India Café, MAC 24-7, Mediterranean Gourmet, Murphy's Bar & Grill, Natsunoya Tea House, Top of Waikiki or Phuket Thai's McCully or Mililani location.
Call 534-7568, e-mail promotions@pacificbasin.net or visit www.honolulumagazine.com.
Hormel marks 70th with Spam Singles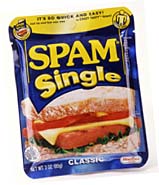 The kid's going on a field trip tomorrow and needs to bring lunch. He wants Spam musubi, but you don't want to open a whole can for one slice. And now you don't have to.
Hormel Foods has launched Spam Singles, celebrating its 70th anniversary by making individual, 3-ounce slices available.
The slices, available in original Spam and Spam Lite, had been sold in some parts of the country and have now gone nationwide. Retail price is about $1.