---
FAST FACTS HAWAII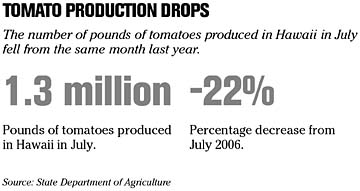 ---
HAWAII
DRFortress completes expansion DRFortress, a Honolulu-based computer colocation provider, has completed a $5.8 million expansion of its flagship data center, the company said in a statement yesterday.
The Airport Industrial Park facility houses computers and servers for the state's major Internet service providers, including AT&T, Hawaiian Telcom, Pacific Lightnet and Qwest.
DRFortress acquired the Pihana Pacific building from Equinix Inc. at the end of last year and started the 10,000-square-foot expansion in January, bringing total capacity to 21,300 square feet.
"By acquiring the facility from Equinix and raising the money, we were able to build a premium facility in Hawaii and meet the demand that was unsatisfied," Chief Financial Officer and co-founder Rosa White said in an interview. "We wanted to build something that was an equivalent quality as the mainland."
The seven-employee company, which raised $16 million in total to purchase the building and complete the 10,000-square-foot expansion, was founded in March 2006 by four former Equinix executives.
NATION
Wal-Mart sentence ruled too light BENTONVILLE, Ark. » A federal appeals court said yesterday that despite his poor health and good works, former Wal-Mart executive Thomas Coughlin got off too easy after admitting he had cheated his company and the IRS.
If anything, the 8th U.S. Circuit Court of Appeals said, Coughlin's standing in his community made his crimes appear worse. It directed an Arkansas federal judge to resentence Coughlin -- rejecting a term that included only home detention and probation.
Coughlin pleaded guilty in January 2006 to felony wire fraud and tax evasion charges after embezzling cash, gift cards and merchandise from Wal-Mart Stores Inc., where he worked for 28 years and served as Sam Walton's protege. Wal-Mart estimated the loss at $500,000.
Google CFO to retire this year
MOUNTAIN VIEW, Calif. »
Google Inc.
said yesterday that its chief financial officer will retire by the end of the year, creating the highest-ranking job opening at the Internet search leader since it went public three years ago.
George Reyes, Google's CFO since 2002, will stay on the job while he helps the Mountain View-based company find his successor. The transition is expected to be completed before January.
In a statement announcing his decision, Reyes, 53, didn't say why he decided to retire.
WORLD
Grand opening Crowds waited yesterday for the opening of the Venetian Macau Resort in Macau, China. This city has already surpassed Las Vegas as the world's most lucrative gambling center, which American billionaire Sheldon Adelson took a step further with the $2.4 billion Venetian.
BRIEF CASE
Cost cutting.
Internet service provider EarthLink Inc. said yesterday that it would cut 900 jobs -- or about half its work force -- and close four offices in an effort to reduce operating costs.
At a discount. Home Depot Inc. said yesterday it has agreed to sell its wholesale distribution business to private equity groups for $8.5 billion -- about $1.8 billion less than originally agreed.
---
BUSINESS PULSE