OHA takes control of Big Isle forest
Sen. Inouye says, "I hope all of you will forgive me" for his support of geothermal
WAO KELE O PUNA, Hawaii » The 25,856-acre Wao Kele O Puna forest on the Big Island was formally turned over to the Office of Hawaiian Affairs yesterday in the midst of the forest, the first land acquisition in the history of OHA.
It was an emotional moment for Palikapu Dedman, the former protester whose organization, the Pele Defense Fund, fought a successful battle in the forest and in court from 1985 to 2002 to stop geothermal development on land then owned by Campbell Estate.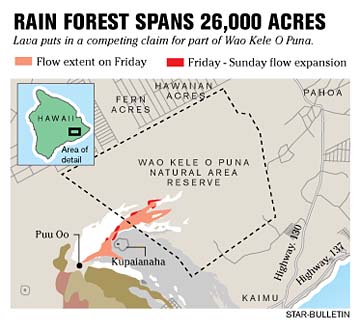 ---
Dedman choked up as he tried to speak to a crowd of several hundred people. Finally he said, "We were just being ourselves."
"The court case was won on (Hawaiian) gathering rights, not on science," he said. "We've got to grow on this. We've got to expand our gathering rights."
Dedman was the only speaker among 14 to receive a standing ovation from the crowd.
U.S. Sen. Daniel Inouye obtained $3.35 million through the U.S. Forest Service, augmented by $300,000 from OHA, to purchase the land from Campbell Estate.
He made a confession about the geothermal project.
"The project failed, thank God, and I realized I'd made a bad mistake," he said. "I hope all of you will forgive me.
"This belongs to the people, and it will be for the people forever," he said.
U.S. Rep. Neil Abercrombie added, "We have a responsibility to make sure that all of the assets of the Hawaiians are put back in Hawaiian hands." The way to do it is through the Akaka Bill designed to permit creation of a Hawaiian-governing entity, he said.
Among protesters jailed during demonstrations was Emily Naeole, now a Hawaii County councilwoman. Her son is now 16 1/2, she said, and his name is Wao Kele O Puna, which means the "upland rain forest of Puna."
In 1985 the state traded the land to Campbell for Campbell's Kahualea land farther uphill.
Attempts at geothermal development continued from 1988 to 1994.
The purchase by OHA, completed July 14 with the assistance of the Trust for Public Lands, means a return to public ownership.
OHA land manager Jonathan Scheuer said the state Department of Land and Natural Resources will manage the land for conservation for the first 10 years, receiving $228,000 per year from OHA and contributing $100,000 per year in Land Department labor.
Paul Conry of the state Division of Forestry and Wildlife said the Legislature has provided $2 million to plug the TrueMid-Pacific well with sand and concrete in 2009.
Meanwhile, lava flows have been knifing into Wao Kele. Kaliko Kanaele of the Royal Order of Kamehameha interpreted that as a positive sign.
"Tutu (Pele) is coming," he said. "She's not coming for destruction."