Memorial will honor 10 soldiers
Gov. Linda Lingle is expected to attend private memorial services tomorrow for the 10 soldiers from the 25th Infantry Division who were killed last week in a helicopter crash in Iraq.
The service for the soldiers -- all members of the 2nd Battalion, 35th Infantry Regiment, 3rd Brigade Combat Team -- will begin at 10 a.m. at Schofield Barracks' main chapel.
Today in Iraq, a tribute was held at Forward Operating Base Warrior in Kirkuk for the Tropic Lightning soldiers who died in the 25th Division's worst single-day tragedy. Besides the 10 Schofield Barracks soldiers, four crew members from Fort Lewis, Wash., perished in the helicopter crash, believed to have been caused by mechanical failure.
From Iraq, Maj. Gen. Benjamin R. Mixon, who commands the 25th Infantry Division, issued a written statement in which he said: "These are difficult times when you lose soldiers as we had under these circumstances, but I wanted to provide a word of thanks to all of our greater ohana back in Hawaii that have expressed support for me personally through your e-mails and also the support that I know you have rendered to our family members located there in Schofield Barracks.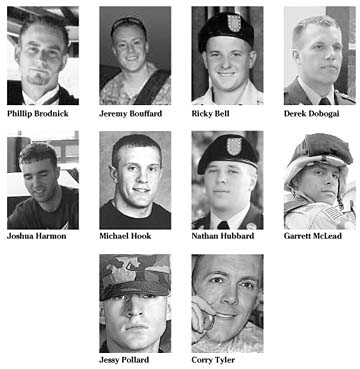 ---
"Your support is vital to our mission success, and the way we experience difficulty such as the loss of our soldiers; it strengthens us to know that we have a greater ohana back in Hawaii that will support our families and will be there when we return from this mission. So I would like to take this opportunity to thank you personally and I ask for your continued support as we continue on with our mission here in Iraq. Mahalo."
Funeral services will be held Thursday at the Jones Funeral Home in Altoona, Pa., for Spc. Michael Hook. He will be buried Friday at Calvary Cemetery. His family, in a written statement, said: "This has been a very difficult time for us, and we are so thankful for the outpouring of support. The numbers of messages coming in via the Internet and the donations have truly been heartwarming.
"Michael meant the world to us, and he will be in our hearts forever."
In Wisconsin the family of Army Capt. Derek Dobogai said the Schofield Barracks soldier had been serving his second combat tour -- the first one was in Afghanistan in 2004 -- and had been selected to join the Army's Special Forces.
In a written statement, the family said: "Derek was one of the kindest people you could ever know. He lived life with honor, served selflessly and lived life to the fullest. Derek has always remained strong in his faith.
"He has achieved so much in his young life both academically and athletically. As parents we will always think of him as our little boy but he was a man, a man of honor, courage, pride, duty, faith and a man of quiet strength."