---
FAST FACTS HAWAII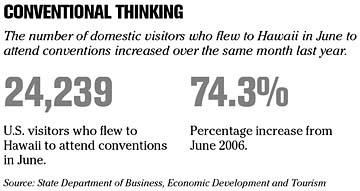 ---
NATION
Home Depot unit sale awaited ATLANTA » Home Depot Inc. investors yesterday awaited word of a deal that the retailer was selling its wholesale distribution business for nearly $2 billion less than originally planned.
The reduced sale price of $8.5 billion for the Home Depot Supply division, which was confirmed yesterday by a person with direct knowledge of the situation, reflected turbulent credit conditions and a tightening housing market.
Home Depot declined comment yesterday.
The retailer, which operates 2,200 stores in four countries and reported more than $90.8 billion in sales last year, wants to shed its supply business and refocus on retail sales. It also plans to buy back up to $22.5 billion in company shares.
U.S. Steel to buy Stelco for $1.1B
PITTSBURGH »
U.S. Steel Corp.
has agreed to pay roughly $1.1 billion in cash for Canadian steelmaker
Stelco Inc.
in a deal to strengthen its position as a supplier of flat-rolled steel products in North America.
U.S. Steel said in announcing the deal late yesterday that Stelco's Lake Erie Works was the most modern integrated steel plant in North America, and said slabs produced at Stelco's Lake Erie and Hamilton, Ontario works will help U.S. Steel expand its flat-rolled and tubular businesses.
Officials expect the deal to close by year's end, subject to review by U.S. and Canadian regulators.
WORLD
All clear for Mittal-Arcelor deal ROTTERDAM, Netherlands » Courts in the Netherlands and France refused yesterday to grant injunctions blocking Mittal Steel Co. NV's proposed $41 billion acquisition of rival steel maker Arcelor SA.
Legal actions launched in Rotterdam by three hedge funds and in Paris by an activist shareholder were both rejected by judges, clearing hurdles to the creation of the world's largest steel maker as measured by sales.
The steel companies already call themselves ArcelorMittal.
In the Netherlands, three funds -- SRM Global Master Fund Ltd., Trafalgar Catalyst Fund and Trafalgar Entropy Fund -- went to court last week seeking to block the first phase of the two-step deal, likely to close before year's end.
BRIEF CASE
Goldman sale.
Goldman Sachs is close to buying Tiffany & Co.'s flagship property in Tokyo for about $318 million, a person familiar with the deal said yesterday.
NYC Internet. Samsung Electronics Co. said yesterday it will work with Sprint Nextel Corp. to bring a new high-speed wireless Internet system to New York City. The deal is part of the wireless provider's plan to launch the network in several U.S. cities.
---
BUSINESS PULSE