New national report on states' obesity rates says not so fat, Hawaii
The study counters reports that our kids are twice as chunky as the U.S. average
STORY SUMMARY »
Hawaii, like the rest of the nation, is getting fatter, but adults here are still leaner than most of their counterparts across the country.
About 20 percent of adults in Hawaii are obese, placing it 47th out of the 50 states and the District of Columbia in rankings of the heaviest states, released today by the Trust for America's Health.
The rate of overweight children in Hawaii is also lower than the national average, but not by much. Still, it is better than earlier reports indicated.
STAR-BULLETIN
---
FULL STORY »
Children in Hawaii aren't as fat as previously feared, and Hawaii's adults are among the leanest in the country, according to a national report released today.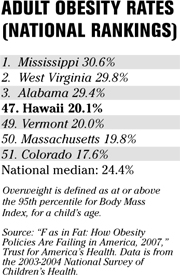 But the state is putting on weight, like the rest of the nation, the data shows.
In Hawaii, 13.3 percent of children ages 10 to 17 are overweight, better than the national average of 14.8 percent, says the report, "F as in Fat: How Obesity Policies Are Failing in America, 2007," issued by the Trust for America's Health.
The data contrasts with widespread local reports that Hawaii's children are twice as fat as the national average -- a contention that sprang from a five-year study of 1,437 schoolchildren in one community in Hawaii.
Researchers from the University of Hawaii-Manoa and Brigham Young University-Laie did not identify the district when they released their data in 2001, but it is a rural, economically depressed area in Maui County and does not necessarily reflect the statewide situation.
"I really don't think our numbers should represent the whole state," Kwok Ho, an investigator in the Hawaii study who is now retired from UH, told the Star-Bulletin. "That was not a random sample; that was just one study in a particular school district."
But such nuances were lost once the results were circulated. The Hawaii researchers found that 25.5 percent of Hawaiian and 22.6 percent of non-Hawaiian students that they studied were overweight. That compared with a national average of 10.5 percent for children age 12 to 19 at the time. The study was published in the American Journal of Human Biology in 2003.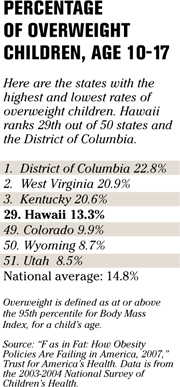 Both the Hawaii study and the one released today used the Centers for Disease Control definition of "overweight," which is at or above the 95th percentile for Body Mass Index for a child's age. While that used to be called "obesity," the CDC now uses the term "overweight" in relation to children.
The state-by-state rankings in the report released today come from the 2003-2004 National Survey of Children's Health. It was a one-time survey of more than 100,000 parents, so comparative data for previous years is not available, said Laura Segal, a spokeswoman for the Trust for America's Health.
America's heftiest kids are in the District of Columbia, where 22.8 percent are overweight, followed by West Virginia and Kentucky, according to the survey. The leanest children are in Utah at 8.5 percent, followed by Wyoming and Colorado. Hawaii's 13.3 percent rate of overweight kids placed it 29th out of the 50 states and the District of Columbia.
Hawaii's adults fared better than local children in the national standing, but grown-ups in the islands are getting chubbier. Hawaii's adult rate of obesity is 20.1 percent, up from 18.2 percent in last year's "F as in Fat" report. That pushed Hawaii's ranking on the fat index from 50th to 47th.
The overall picture of America's weight remains sobering. Not a single state managed to reduce its rates of obesity or overweight. Obesity in adults is defined as having a Body Mass Index of 30 or more, while overweight is having a BMI of between 25 and 30.
Mississippi had the fattest adults, at 30.6 percent obese, while Coloradans were thinnest at 17.6 percent. In 32 states more than 60 percent of the adult population is overweight or obese. In Hawaii the figure is just under 55 percent. The adult obesity figures are based on telephone surveys by state health departments with help from the Centers for Disease Control.
"There has been a breakthrough in terms of drawing attention to the obesity epidemic," said Jeff Levi, executive director of the Trust for America's Health, based in Washington, D.C. "Now we need a breakthrough in terms of policies and results. Poor nutrition and physical inactivity are robbing America of our health and productivity."
Dennis Chai, who worked with Ho on the Maui County study, agreed that what is needed now is action on a broad scale. He said business, government, schools, advertisers and others need to join forces to get the nation to trim down.
"It's like the smoking issue -- the whole nation got involved in that, and we've really made inroads," he said. "We know we have a problem with obesity. We know what the answer is. You've got to get out and move, and you've got to eat healthy."