Crude, yet captivating
Is Duane "Dog" Chapman a felon or a hero? A victim of unjust treatment or a master manipulator of public opinion? White trash or pop culture icon?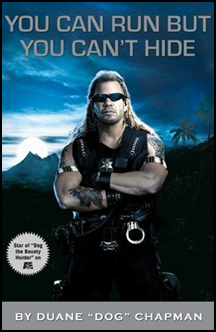 In the television star's best-selling book, "You Can Run but You Can't Hide," he appears to be all of these. Both Chapman and his wife, Beth, are walking dichotomies: caricatures who also manage to be deeply human after suffering staggering losses, former criminals (both served jail time) who ardently defend the law, devout Christians who claim to yield to God's will yet make their own rules.
Chapman, who was born to a half-Apache mother who preached to the kids and a father who worked as a welder and beat the kids, endured taunts such as "half-breed" and "Injun" throughout his childhood. But his father also taught young Duane to track and hunt. "We never took dogs," Chapman wrote. "I was the dog. It was my job to figure our course."
"You Can Run but You Can't Hide"
By Duane "Dog" Chapman

with Laura Morton

(Hyperion)

2007, $25.95
After quitting school in junior high, Chapman spent time breaking into homes, stealing, partying with hippies, smoking pot and getting high on airplane glue. As part of a motorcycle gang, he transformed his look into the long-hair-and-leather appearance he wears today. One of his biker buddies named the "Bible-thumping" Duane "Dog" because it spelled God backward.
"It fit me to a tee," Chapman wrote. "I was mean like a dog, and loyal, too. I could be your best friend or your worst enemy."
Beginning at 16, Chapman fathered 12 children (two died) by numerous women. He married nearly all of them but by his own account remained faithful to none. Even after he wed Beth, his current personal and professional partner, he lamented the one complication that ended his ability to "screw girls for information": his fame.
The 54-year-old Chapman has tracked down 7,000 fugitives. His 23 years on the wrong side of the law (when he wasn't making an impressive living as a vacuum salesman) allow him to anticipate a criminal's every move.
This is what makes the book so riveting -- or revolting, depending on your appetite for lurid details and over-the-top revelations. Either way, it's never boring.
Chapman has lived intermittently in Honolulu and Kona since the early 1990s. After his mother died, he fell prey to the destructive influences of a girlfriend and became a crack addict ("I was desperate for love and acceptance"), dropping to 130 pounds, living in filth and feeding his children cat food because he ran out of money. As always, he pulled himself together and triumphed in the face of daunting obstacles.
"I usually tell people that bounty hunting is what I do best, but the truth is, I am the greatest criminal who ever lived," he wrote. "I took my conviction and turned it into something good by becoming a defender of the law instead of an offender."