---
FAST FACTS HAWAII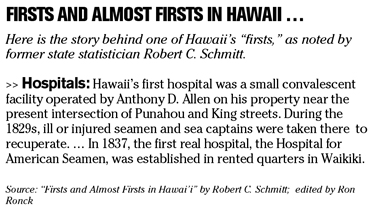 ---
NATION
New backpacks are bulletproof
Two fathers' creation of a bulletproof backpack to protect their children from school shootings is drawing flak -- and plenty of Internet sales.
Massachusetts creator Joe Curran said he developed the $175 "My Child's Pack" to give a "proactive defense" to his children after the 1999 Columbine High School massacre.
"It was born out of necessity," Curran told Denver's 850 KOA-AM radio last week. "We were very worried about them going to school without any type of protection when it comes to a gunman."
Curran said he and another dad hit on the idea of installing a lightweight bulletproof panel in backpacks because many children at schools carry their packs throughout the day.
"It's not a negative," Curran said. "The idea would be that a child has a defense tool, which the backpack would be, where they can hold it between them and the gunman just like a police bulletproof vest."
The company, MJ Safety Solutions, has a You Tube video showing a young girl using a backpack to shield her head and chest.
"We're getting them (the backpacks) out as fast as we can," Curran said.
Learn about your workers' needs
Employers, do you know what will send your best workers heading for the door? By asking a few simple questions, you can keep your company's talent from being wooed by the competition.
"Adopt the policy that no one will work at a company longer than one year without being re-recruited by the boss," said Michael Jalbert, president of employment recruiter MRINetwork. "Drop loyalty from your vocabulary and accept that you must continually challenge top talent if you are to keep them."
Jalbert suggests the following questions to learn more about how your employees feel about their jobs:
» If you could make any changes to your job, what would they be? What wouldn't you want to change?
» In the morning, does your job make you jump out of bed or hit the snooze button?
» If you suddenly became financially independent, what would you miss most about your job?
» If you could return to a previous position, what would it be and why?
» What can we do to keep you with us?
Get right to work after promotion
You've just landed a promotion. Now what?
Instead of hiding in your new corner office, get your hands dirty in your new position, advises Jan Tomlinson of Chubb Group of Insurance Cos.
First, establish credibility by acknowledging both your strengths and areas of weakness. Enroll in training programs to beef up skills that need improvement.
Recognize your new staff's expertise and use them as resources. Don't be afraid to ask questions.
It might feel uncomfortable, but dive into unfamiliar territory to boost your competency. Even though you're the boss, expect to make occasional mistakes and try to learn from them.
Seek out senior managers and develop working relationships or find a mentor. The head honchos have been in your shoes and can offer advice on how to make the most of your new gig.
Are weddings really so expensive?
Tying the knot costs, on average, nearly $30,000 in the U.S. Three major surveys say so, and a spate of news articles this summer and in prior wedding seasons parrot that figure.
But the typical American wedding appears to cost half that, or even less. The surveys reach couples who are likely to have more-expensive weddings than average. Furthermore, the reported numbers are bigger because of how the surveys define "average."
The so-called average cost -- between $27,400 and $28,800, according to the latest iteration of these surveys -- is a mean. In this case, it's the sum of all the survey responses, divided by the number of people surveyed. The mean is especially susceptible to a single lavish exception: One $1 million wedding put into the mix with 54 weddings costing $10,000 each would boost the mean to $28,000, although among the 55 couples, $10,000 would seem a much better representation of the typical cost.
For the three surveys, the median wedding cost is closer to $15,000. The median is the middle figure when you line up a set of numbers in order of size.
---
BUSINESS PULSE