SPECIAL REPORT
Alakai weighs anchor
STORY SUMMARY »
The Hawaii Superferry was to set sail on its first commercial voyage this morning.
But the interisland ferry may not be sailing for long.
Maui attorney Isaac Hall, representing environmental groups, is filing for an injunction tomorrow to stop the ferry operations.
Protesters plan to meet the ferry when it arrives on Kauai this afternoon.
The prospect of interrupted trips didn't discourage 19,000 people from snapping up $5 introductory fares yesterday.
About 90 percent of the available tickets between Honolulu and Maui and Honolulu and Kauai were sold in the first 10 hours after phone lines opened at 6 a.m., the company said. The first voyage to Maui sold out in 30 minutes.
On Thursday, the Hawaii Supreme Court overturned a Maui court decision and unanimously ruled that an environmental assessment should have been completed before the state built about $40 million in harbor improvements to accommodate the ferry.
Yesterday, Gov. Linda Lingle called the court's decision "strange and unusual."
"We also want to follow the law, and we thought we did and were surprised by the ruling," she said.
---
FULL STORY »
Sometime around 6:30 a.m. today, the Hawaii Superferry will pull away from Honolulu Harbor's Pier 19 and the dream will become a reality.
By the numbers
349 feet, 4 inches
Overall length

35
Service speed in knots, or 40 mph

882
Maximum tonnage that can be carried

866
Maximum number of passengers

282
Maximum number of cars that can be carried

300
Full- and part-time employees for the Superferry
The $85 million, 349-foot Alakai already has plied the waters between Honolulu and the neighbor islands during trial runs, but this time the journey will mark its official Hawaii debut.
The first trip will be to Maui and back, followed in the afternoon by a round-trip cruise to Kauai. But the going could get rough after that if environmentalists prevail on an injunction expected to be filed tomorrow in Maui Circuit Court that could suspend Superferry operations.
That possible disruptive action was set in motion Thursday when the Hawaii Supreme Court overturned a 2-year-old Maui Circuit Court decision and ruled that the state Department of Transportation must prepare an environmental assessment for the Superferry facilities at Kahului Harbor on Maui. Environmentalists have long expressed concern about port congestion, collisions with whales and the spread of invasive species.
As late as Friday, there were questions about whether the high court's ruling would sink the Superferry's scheduled start on Tuesday. But company officials beat the anticipated court action by moving up the launch date by two days and offering an 11-day promotion featuring $5 one-way tickets for each passenger and $5 for each vehicle.
Superferry President and Chief Executive John Garibaldi, without acknowledging the move was a pre-emptive measure, said the start date was accelerated because "we've been just champing at the bit to get our service started as early as we can."
Garibaldi, who declined to speculate about the effects of an injunction, never lost faith in the potential of the Superferry, an idea first conceived six years ago. Despite the failure of the interisland vessel Seaflight in the mid-'70s, Superferry officials raised $90 million from investors and received a $140 million federal loan guarantee from the U.S. Maritime Administration.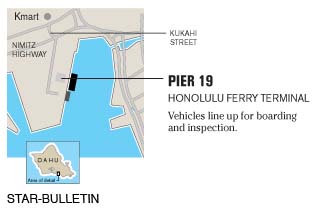 The state also vowed $40 million in harbor improvements for Oahu, Maui, Kauai and the Big Island -- the improvements now the subject of the possible injunction.
Garibaldi said the company remains committed and that enthusiasm has ramped up over the last two months.
"The biggest thing was June 30," he said. "That was really the telling point for me when we brought the Alakai into the harbor (from the shipyard in Mobile, Ala.). It was very emotional for me, and the other members of our team, to see the Alakai's bow come in. And since that date, it's been the reality of we're going to be starting service soon. The adrenaline has been flowing seven days a week, 24 hours a day, for everybody."
The reality also is that people wanting to travel interisland now will have an alternative to flying. The Superferry, which has a business model that allows it to make a profit with just under 40 percent capacity, can carry 866 passengers and accommodate up to 282 subcompact cars. It expects an average load of 400 passengers and 110 vehicles.
The company also has a Hawaii-first initiative in which it is committed to using Hawaii-made products in the gift shop and Hawaii-grown produce in the food and beverage areas.
"We really want to support our local farms and local businesses here on all of the islands," said Terry O'Halloran, Superferry director of business development.
Even though the Superferry's trial runs showed that some passengers may be affected by motion sickness, Garibaldi said the crew will try to minimize the rolling wave action.
"It's just a matter of finding the right sea path," he said. "This is no more difficult than turbulence."
For Garibaldi, "the experience" makes the three-hour, one-way voyage worth the trip.
"It's the best tourist visitor attraction here in the state to understand a part of Hawaii that's really been hidden for many, many years," he said. "We're now bringing people right to eye level of this beauty of the islands."
Schedule
Hawaii Superferry offers daily service between Honolulu and Kahului. Service between Honolulu and Nawiliwili, Kauai, will be offered six days a week (Sunday-Friday). Service to the Big Island is expected to start in 2009 with the arrival of a second ferry.
| | | |
| --- | --- | --- |
| DESTINATION | DEPARTS | ARRIVES |
| Honolulu to Kahului | 6:30 a.m. | 9:30 a.m. |
| Kahului to Honolulu | 11 a.m. | 2 p.m. |
| Honolulu to Nawiliwili, Kauai | 3 p.m. | 6 p.m. |
| Nawiliwili, Kauai, to Honolulu | 7 p.m. | 10 p.m. |
---
BACK TO TOP
|
Anatomy of the Alakai

CLICK FOR LARGER PICTURE
Passenger deck
The deck accommodates 866 passengers. It is divided into three seating sections, each with a dining area. There are 34 LCD flat-screen televisions throughout that show newly released movies and live sporting events, among other programming. The Hahalua Lounge is available for a $20 upgrade and includes a welcome-aboard drink, pupus, complimentary coffee and newspaper, and board games. It also has oversize leather seats and special lounge tables. The Midship Dining Area has the most seating, as well as the Calabash gift shop, the Manta Cove Play Room for keiki ages 2 to 8, and an arcade for the older kids. The Surf Break Lanai has access to the outside lanai.
Mezzanine deck
Most cars will be parked on this deck. The forward section is fixed, but the aft sections can be raised to allow more room for taller vehicles on the main deck below. Using a system of hoistable decks and mezzanine ramps, smaller vehicles are directed to the forward end of the ship on both vehicle decks, where they turn around and are parked facing aft to allow quick offloading. Large trucks that cannot turn around will back onto the deck so they can depart quickly.
Main vehicle deck
Vehicles drive onto the ferry via this deck. Altogether, the two vehicle decks can accommodate up to 282 subcompact cars, including motorcycles, cars, trucks and buses. The anticipated average load is about 110 vehicles. Cars and heavier vehicles can be parked on the main deck.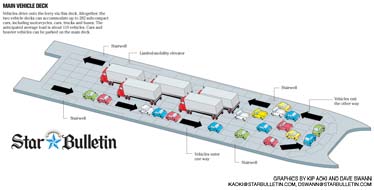 CLICK FOR LARGER PICTURE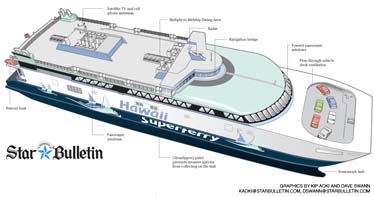 CLICK FOR LARGER PICTURE
---
BACK TO TOP
|
Commonly asked questions
Q:
What do I need to do to bring a vehicle onboard?
A: The driver must have a valid driver's license, vehicle registration and proof of insurance, even for trailers. If the registered owner is not traveling, the driver must have a "vehicle movement authorization" for each vehicle, signed by the registered owner in the presence of a notary public. The forms can be downloaded from www.HawaiiSuperferry.com. RE/MAX offices will notarize VMA forms for free, as will Bank of Hawaii branches for their customers. Other bank branches may charge a fee. The Hawaii Superferry office at Restaurant Row, One Waterfront Plaza, Suite 300, also will notarize forms for free between 9 a.m. and 5 p.m. weekdays.
Q: Can I bring a pet onboard?
A: Yes. Only cats, dogs, pigeons and rabbits can travel without a Hawaii Department of Agriculture certificate, and must be kept on the vehicle deck. Pets should be contained in an International Air Transport Association-approved, leakproof container that must be carried to the kennel location on the ship. Dogs are allowed to stay inside vehicles at the owner's discretion as long as windows allow adequate ventilation and prevent the pet from escaping.
Q: Can I leave my car at the dock in Honolulu?
A: No. Walk-on passengers are encouraged to be dropped off.
Q: Are there baggage restrictions for walk-on passengers?
A: Yes. Passengers are allowed two checked bags weighing no more than 50 pounds each, and no more than two personal carry-on bags or packs. Oversized or excess luggage will be subject to additional fees. There is no limit to what passengers can carry in their vehicles.
Q: Will cell phones and the Internet work onboard?
A: Yes. Both will work virtually the entire way between Honolulu and Maui, excluding some intermittent patches. Between Honolulu and Kauai, service will be interrupted midway through the voyage, where coverage is spotty.
Q: How can I prevent motion sickness?
A: Eat a light meal before traveling. Starting with something in your stomach will help. Try over-the-counter preventive drugs and devices taken well in advance of sailing. Onboard, look at the horizon; focus on a distant point. Refrain from reading while the ship is in motion. Drink or have access to liquids. Ginger ale helps settle a queasy stomach. Convenience bags are readily available onboard. Over-the-counter medicines for motion sickness also are sold at the ship's gift shop.
---
BACK TO TOP
|
Ticket prices
A $5 special fare is available through Sept. 5. After that, prices revert to regular fares, which do not include a fuel surcharge of 30.8 percent. That amount, which is added to the final price, will be calculated monthly.
One-way passenger fare



Tuesday-
Thursday
Friday-
Monday

14-day advance online fare
$44
$54

Base passenger fare
$52
$62

Children age 2-12
$41
$51

Infants under age 2
$17
$17

Seniors age 62 and over
$41
$51

Retired military
$41
$51

One-way vehicle fare

Car / SUV
Less than 17 feet long, 8 feet high
$59
$69

Pickup truck / van
17-20 feet long, 8 feet high
$94
$104

Motorcyle, mo-ped, scooter
$34
$44