DOCUMENTARY
Soul surfer
A documentary reveals how surfer Bethany Hamilton refused to let a shark attack derail her dreams
There's no question that a successful surfing career awaited Kauai's Bethany Hamilton. But that dream was derailed momentarily when a 14-foot tiger shark bit off her left arm in 2003, when she was 13.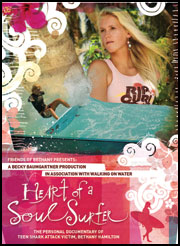 One look at a charming new documentary, "Heart of a Soul Surfer," however, makes it clear that Bethany still dazzles on the waves. So much, in fact, she recently turned pro.
Amazingly, she returned to surfing just three weeks after the incident. The footage here is breathtaking in its simplicity -- a girl with a bandaged stump struggling to catch small waves. Ever tried getting up on a board with one arm? Ever ventured back into the ocean after you've been attacked by a shark? She does both with no fear and plenty of determination.
First-time filmmaker Becky Baumgartner graduated from California State University Fullerton with a degree in film production before moving to Kauai last year, when she began working for the Hamilton family as an assistant.
Requests for Bethany to speak or make appearances were so numerous that Baumgartner had to decline many invitations. The predicament inspired her to create a video to share with potential audiences when Bethany could not attend an event.
Though Baumgartner's vision evolved, the piece retains its personal, home-movie feel as it travels the film-festival circuit.
Religion and spirituality lie at the core of the film, which tackles the question, "Why does God allow bad things to happen in our lives?" Bethany believes those unpleasant life changes guide us to our true purpose.
"She's basically taken an event that could've easily ruined someone, and used her faith and strong spirit to grow from it and help others," said Mike Doyle, director of outreach for Walking on Water, a Christian-based surf film company that released "Heart of a Soul Surfer."
"So much today is fake and false, and this is one of those cool true stories," Doyle said from his office in San Diego. Bethany's biggest fans are young girls, who "idolize her because she's so courageous in the face of adversity."
The best part about Bethany, according to Doyle, is that she's managed to remain unfazed by the media attention. "She's so humble that she deflects it all, but she's a rock star."
---