| | |
| --- | --- |
| | Wood Craft |
---
Conductor wants recognition for Honolulu Symphony
New Honolulu Symphony conductor
Andreas Delfs
told symphony supporters at a Nobu reception Thursday that our symphony is "one of the finest orchestras in the United States."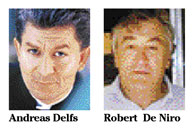 He added that the orchestra is a "well-kept secret, and we have to change that." Andreas is a pianist. Although he conducts symphony orchestras today, he tinkled the ivories in a jazz band in high school in Germany. The symphony opens its season tonight at 8 and tomorrow at 4 p.m. in the Concert Hall ... The Nobu staff, led by GM
Luke Bjoin
, took good care of the packed crowd Thursday.
Suzie Fried
, with hubby
Rick
, attracted attention in a dazzling leopard print low-back cocktail dress with sling-backs, also in leopard print.
Ricki Cassidy
, another fashion plate, said years ago when she and husband
Paul
lived in California, they would patronize Matsuhisa,
Nobu Matsuhisa's
small, first restaurant in Beverly Hills ...
Robert De Niro
is one of Matsuhisa's partners. He stopped here recently to check out Nobu in the Waikiki Parc after attending the opening of a Nobu in Melbourne, Australia. Nobu and the Halekulani provided food for De Niro and his family for the trip home in his private jet ...
A group, complete with Scottish bagpiper, recently attended a dedication for a bronze plaque that marks the spot on the Ala Wai where a house for Princess Kaiulani was built. Kristin Zambucka designed the plaque. Regina Kawananakoa, Ramona Harris, Nora Meijide-Gentry and Bruce McEwan contributed funds to make the plaque ...
La Pietra girl back from Strasberg Institute
Hayley Hughes
, a La Pietra junior and an actress-singer, has returned from a summer session at the prestigious
Lee Strasberg
Theatre and Film Institute in New York.
Anna Strasberg
, actress and widow of the director, awarded the scholarship last year while visiting
Vittorio
and
Alliata di Montereale
. The couple has three daughters attending La Pietra. Hayley has appeared in all the plays at La Pietra since she was in the sixth grade. She has stepped up into DHT and ACT musicals and has been in
Jim Nabors'
Christmas shows. She also performs with the Queen Emma Ballet, the DHT Shooting Stars and sang at Sunset Jazz last year. Her parents are
Ferrell
and
Shelby Hughes
...
Ben Wood
, who sold the Star-Bulletin in the streets of downtown Honolulu during World War II, writes of people, places and things in our Hawaii. E-mail him at
bwood@starbulletin.com