Schwab shows up for unveiling of Big Isle project
The discount brokerage king is a partner in the $400 million Palamanui mixed-use project
STORY SUMMARY »
Two years after it was first announced, a development team backed by Charles Schwab has managed to clear several hurdles to start construction on its 725-acre master-planned development.
The development partners of Palamanui LLC include Schwab, Chris Hunt of the Hunt Development Group, and Kona contractor Guy Lam.
The silver-haired Schwab, 70, was on hand yesterday to break ground on the $400 million Palamanui project, which is to include 1,100 homes, a business and leisure hotel, shops, restaurants and a gourmet grocery store and research and development park, as well as a University of Hawaii classroom complex.
He said he envisions the project as a return to small-town values with an emphasis on lifelong learning, health and wellness.
STAR-BULLETIN
---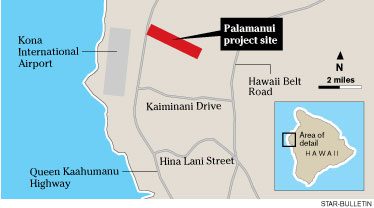 ---
FULL STORY »
KONA » Of all the Hawaiian isles, the Big Island has always been a favorite for financier Charles Schwab. It is also where he has made some of his most significant investments, in terms of dollars and real estate.
Palamanui Master Plan
» Development Partners: Charles Schwab, Chris Hunt, Guy Lam

» Residential homes: 1,100 single and multifamily (20 percent affordable)

» Commercial Center: Palamanui Village, including 120-room business/leisure hotel, wellness and lifelong learning centers, community center, retail shops, gourmet grocery, restaurants, medical services, research & development park.

» Set aside: 55-acre lowland native dry forest preserve

» UH Benefit: 20,000 square foot complex including classrooms, offices and resource centers for the University of Hawaii Center West Hawaii

Source: Palamanui LLC
The silver-haired Schwab was on hand yesterday afternoon, along with development partners Chris Hunt and Kona contractor Guy Lam, to break ground on Palamanui, a $400 million master-planned development on 725 acres.
Hundreds of guests were on hand to witness a Hawaiian blessing at the spot where a 120-room business and leisure hotel is to be built overlooking the ocean on a vast field of lava rock one mile north of Kona International Airport.
Palamanui LLC is an equal partnership between Schwab, Lam and the Hunt Development Group.
The project is expected to offer 1,100 homes, a hotel, town center with retail shops and offices, wellness centers, a gourmet grocery store, restaurants and a research and development park.
Schwab, 70, said he considers himself more of an investor, while leaving details of the development to his other two partners.
But he has an affinity for the Big Island, which he's visited since he was a child on vacation with his family. He said he likes the weather, which reminds him of San Francisco, headquarters of Charles Schwab & Co.
"I love the fact that so much goes into the history and the ancestors," said Schwab after the ceremony, "which gives you lots of reason to protect the land, and helps keep our future generations in line."
Schwab says when he saw an investment opportunity on the Big Island where "the dividend was great weather and a leisurely lifestyle."
He envisions the project as a return to small-town values with an emphasis on lifelong learning, health and wellness -- a growing trend he said is hard to ignore.
"We shared the concept of wanting to build a community of new conveniences steeped in the traditions and cultures of Hawaii's past when life moved at a slower pace," he said.
Palamanui is one of the largest Hawaii developments Schwab is involved in, following the 2004 construction of private golf course Nanea on the slopes of Hualalai as well as Makalei Estates.
Schwab himself is an avid tennis player and golfer, who said Nanea has a beauty that reminds him of Scotland.
But the father of 10 also felt that with Palamanui it was important to leave a sort of legacy behind, which to him involved the support of education.
"We now have a world-class community in conjunction with the university," he said, adding that he hoped it would motivate young as well as retirees.
The homes will include a mix of ocean view lots as well as single-family homes, townhomes and condos, priced from $400,000 to $1.5 million. As required, 20 percent will be meet state affordability criteria.
The site originally planned for an 18-hole golf course will instead be set aside for open space.
Partner Guy Lam said it was a move to target more of the middle market, although there will still be some ocean-view estates. Lam said the slowing residential market was not a factor, however, and he estimates a sales value of $650 million.
The developers have also agreed to pay for and build a 20,000-square-foot complex of classrooms, offices and resources centers for the University of Hawaii's west campus, to be completed in 2009.
The project has been in the works for several years, requiring zone changes by both the state and Hawaii County Council.
A grading permit was issued for the project earlier this week.
In May 2005, the proposed project, then under the development team Hiluhilu Development LLC, won approval from the state land use commission to reclassify the ands from agricultural and conservation to urban.
Hiluhilu was composed of Schwab and Lam, who built a home for the financier and won his trust due to his meticulous work. Texas-based Hunt joined the development team a year and a half ago, said Lam.
In May of last year, Palamanui won approval by Hawaii's County Council to rezone the land from an agricultural to a project district.
"I voted favorably for Palamanui after a long discussion with the developers and some significant changes that they agreed to," said Hawaii county councilman Pete Hoffmann, who gave developers credit for considering the changes, mostly related to roads and open space.
Palamanui is expected to give the University of Hawaii a big boost in plans to relocate its campus from rented facilities in Kealakekua to North Kona.
Under an agreement with the University of Hawaii, the developers also expect to build a temporary campus and much of the infrastructure needed for a permanent campus on 500 acres next door.
The state Department of Hawaiian Home Lands had also sought the university to build a campus at its Villages of Laiopua development near Honokohau Harbor. But University of Hawaii President David McClain said yesterday Palamanui is the preferred site.
Original plans for Palamanui included 856 residential units, including ocean view estates, two- and three-bedroom condos, international student housing and senior housing.
Hiluhilu purchased a total of 1,000 acres in 1999 which it then subdivided to develop Makalei Estates, a development above Palamanui, with 80 three-acre luxury home sites.
Palamanui was named after the trees which once grew there, the berries they produced, and the many healing properties of the plants that once thrived there, according to consultant Karin Haleamau.