MUSIC
Hoku listens up
Taking creative control over her comeback lets Ho be "more accountable to the audience"
Tom Moffatt called Hoku Ho and mentioned Gwen Stefani's two-nighter at Blaisdell Arena, she assumed he was going to invite her to the concert.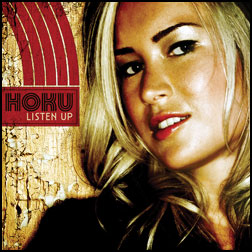 Instead, he asked her to be Stefani's opening act, Hoku said, on the line from California for a brief interview Monday.
"We said 'yes' right away. We were completely overwhelmed and excited to do it."
The timing couldn't be better. After spending the last few years "basically doing nothing" after stepping away from her career five years ago, Hoku is returning to the music business.
This time, however, she's doing it her way.
"It's not that I'm as mature as I'm gonna get by any sense of the imagination, but I'm not that little 18-year-old naive Hawaiian girl out in the big pond."
For a while, Hoku thought she might be finished with the music business.
"There were times when I thought, 'I'm just going to be a normal person now,' but I was writing a lot of songs like the way someone would write in a diary, and I started realizing as I was starting to get better at it that there were some songs that I would feel really comfortable sharing with the world -- things I wish people had known about me back when I did this before."
Her new work, she adds, is several steps removed from the bright G-rated pop-rock repertoire -- almost all of it written and produced by other people -- that put her on the Billboard Hot 100 with "Another Dumb Blonde" in 2000.
"That was pretty much straight-ahead pop. ... The best description of my music now is an even mix between Alicia Keys and Maroon5. It's got a little bit of an urban feel. ... The difference is that I'm producing everything with a partner, but everything is pretty much being written by me."
She likes having creative control, although it means that she's "much more accountable to the audience for what they're hearing."
As head of her own label, Ola Vista Records, Hoku is also calling the shots regarding marketing. "We're coming out with an EP first, which is basically just a shorter version of a full-length CD. The other half of that CD should be out soon."
The title is an appropriate one for a come-back project: "Listen Up."
Copies will be available at the Blaisdell this weekend, but the primary promotional push for her music at the moment is on iTunes.
"The way that people are downloading music, we thought we'd just try to see how the market would respond to it. Since they're buying songs one at a time anyway, we thought it would be kind of a cool thing to put out a smaller little package and see how the market responded. ... We have the creative license, so we just went with it."
A full-length album with additional songs is in the planning stages; Hoku says it will be marketed on her Web site and in conventional record stores.
"It's a very singles-driven market these days right now and the way we treated this EP was to take five 'singles-worthy' songs, five of my favorite songs that I've written, and put them out. What would happen if we put five 'singles' on one CD? That's kinda what the experiment is about."