| | |
| --- | --- |
| | Island Mele |
---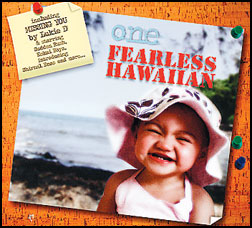 "One Fearless Hawaiian"
Various artists
(Fearless Hawaiian Enterprises)
Kwai-Chang Publico celebrates 10 years in the local music business with this warts-and-all anthology that includes the work of six Big Island acts and a visitor from Jamaica. Publico writes in the liner notes, "i'd like to think i made more positive then negative actions and reactions" and also acknowledges some "business and personal mistakes" along the way. Such candor is rare in the record business, and the album is a handy introduction to the Big Island music scene.
The most impressive tracks are from "Ku'e," the second album by Sudden Rush. "Paradise Found" in particular continues to resonate as a powerful and articulate mele ku'e (song of resistance). The impact of Sudden Rush is heard elsewhere as various members of the group -- Don "King Don 1" Ke'ala Kawa'auhau Jr., Caleb "Da Redeye" Richards, Shane "Kid Dynomite" Viencent and "Radical Rob" Onekea -- guest on several other artists' projects.
The Kekai Boyz represent the Jawaiian side of the musical spectrum with six selections from two albums. "One Night Stand," a doleful tale of a player who gets played by a woman he expected to seduce and abandon, is the song that got them significant radio play outside the Big Island. The presence of an annoying Jamaican-impersonator as guest yapper, er, rapper, on another Kekai Boyz song, "Just An Illusion," is one of the "warts" on this retrospective.
Three other Big Island acts -- Pana'ewa, J. Moki Cho and Mr. Tripp -- get one track each. Lukie D, a visitor who played a show in Hilo earlier this year, gets two more.
The final track is a rough mix acoustic version of "Overcome" by singer/songwriter Shirnel Kehealani Enos. She sounds like a Big Island star in the making.
John Berger
, who has covered the local entertainment scene since 1972, writes reviews of recordings produced by Hawaii artists. See the Star-Bulletin's Today section on Fridays for the latest reviews. Reach John Berger at
jberger@starbulletin.com
.