---
FAST FACTS HAWAII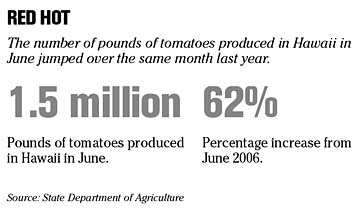 ---
HAWAII
Foodland Ala Moana reopens today Foodland Super Market Ltd. today is reopening its newly renovated 18,500-square-foot store at Ala Moana Center.
The store, which has been closed for 14 weeks, has been redesigned to include the Coffee Bean and Tea Leaf and Beard Papa Hawaii stores at its front entrance.
The company has expanded its made-to-order offerings in the deli, meat and seafood departments and has added more local produce on its shelves.
Foodland was founded in 1948 by Maurice J. Sullivan, who opened the Ala Moana store in 1959. The company now has 29 stores on four islands with 2,000 employees.
Securitas opens investigation unit
Securitas Security Services USA Inc.
has opened a special investigations branch focusing on investigations within the legal, insurance and business communities in Hawaii.
The California-based company, which offers security guards, alarm systems, consulting and investigative services, has hired retired Honolulu Police Department Lieutenant Kenneth Chang to head a 12-member team including retired police and federal law enforcement officers.
The branch will provide services statewide out of offices in Honolulu and on the Big Island.
Horizon Lines buys logistics firm
Horizon Lines Inc.
said yesterday it has acquired South San Francisco-based
Aero Logistics
for an undisclosed price.
The state's second-largest ocean shipper announced last week it was restructuring its transportation and logistics operations under two wholly-owned subsidiaries, Horizon Lines LLC and Horizon Logistics LLC. The new logistics subsidiary was established to manage the company's growing integrated logistics services business.
Aero Logistics is a third-party logistics provider that designs and manages custom freight shipping and special-handling programs for customers in service-sensitive industries, including high-tech, health care, energy, mining, retail and apparel. Aero also operates a fleet of GPS-equipped trailers under the direction of its Aero Transportation division.
WORLD
Razor thin Sharp Corp. introduced its new liquid-crystal display television technologies in Tokyo yesterday. Sharp, Japan's biggest maker of LCD televisions, plans to sell a 108-inch set, above, as soon as this year end to capture demand for larger models. It also introduced a 1.1-inch-thick prototype TV -- the thinnest, lightest and lowest energy-consuming LCD in the world, Sharp said.
BRIEF CASE
Housing crunch.
Toll Brothers Inc., the nation's largest builder of luxury homes, said yesterday its third-quarter profit plunged nearly 85 percent as the housing downturn and credit worries triggered cancellations and hefty writedowns.
---
[ HAWAII INC. ]
New hires / Promotions
» Stryker Weiner & Yokota Public Relations has announced the following new hires for its travel division:
Michelle Greeno Edwards
has been hired as senior account executive. She will oversee accounts that include Starwood Hotels & Resorts Hawaii and the Hawaii Tourism Authority. She previously served as marketing manager at the Bishop Museum, worldwide communications coordinator at the Motion Picture Association and worked in global brand management for Warner Bros. Entertainment.
Mari Takamura
has been hired as account coordinator. She will oversee accounts that include the Oahu Visitors Bureau and Starwood Hotels & Resorts Hawaii. She previously served MulvannyG2 Architecture in Bellevue, Wash. assisting in public relations and marketing, and has also served in guest relations and ticket sales for the Seattle Sonics and Storm and as an intern at the Seattle Sports Commission.
Board elections
» The Small Business Regulatory Review Board has announced its officers for 2007-2008:
Lynne Woods
, chair;
Sharon L. Pang
, vice chair and
Michael C.L. Yee
, second vice chair.
» The Japanese Cultural Center of Hawaii has announced its directors for 2007-2008: Eric K. Martinson has been elected chairman of the board of directors effective July 31. He previously served as vice chairman since the 2002-2003 term. New at-large members elected to the board are Susan Eichor, Gordon Kagawa and Curt Otaguro. The current board includes Donn Ariyoshi, Dean K. Hirata, Wayne Kamitaki, Lee Moriwaki, Wayne Muraoka, Miki Okumura, Susan Yamada Scott, Sherman Shiraishi, Yuki Lei Sugimura, Alan Tomonari and Ronald Ushijima.
---
BUSINESS PULSE