| | |
| --- | --- |
| | By Request |
---
A new cookbook turns focus on Hawaii's eating habits
STORY SUMMARY »
Turn to Page D3. Fill out coupon. Mail coupon. Save $8.95 (while spending $20). Add a new cookbook to your collection. (For our online readers, head on over to Mutual Publishing's site to get the discount.)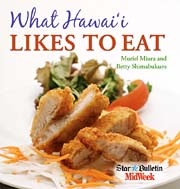 That was the economical version of what I have to say today. To put it in prettier and more plentiful words: We invite you on a cookbook adventure, a collaboration between the Honolulu Star-Bulletin and Mutual Publishing Co.; between local recipe maven Muriel Miura and myself.
A dollar from every book sold in the first six months will go to the American Heart Association's Hawaii chapter. (a similar partnership involving last year's "By Request: The Search for Hawaii's Greatest Recipes" earned more than $10,000 for the Institute for Human Services and we're aiming to top that).
The book is called "What Hawaii Likes to Eat," and the premise is pretty much stated right there. Earlier this year we polled Star-Bulletin readers about their favorite foods, the book publisher consulted with chefs and other foodies, Muriel reached back in her brain through decades of recipe development, and I talked to myself -- about what resident eaters of Hawaii have asked me in the nine years I've been writing this column.
The result is a 2-pound-11-ounce book filled with 137 recipes. It certainly makes a statement in pure heft. It arrives in September, but pre-orders begin today.
You'll find recipes here that reach way back in taste bud memory: the Chocolate Dobash Cake from the old Woolworth's, for example; some rarities, such as Korean Black Noodles; and Muriel's tried-and-true versions of island favorites such as Paniolo Stew. So, are you hungry?
---
FULL STORY »
The hardest thing about putting together "What Hawaii Likes to Eat" wasn't compiling the recipes, it was the photo shoot.
If you've never witnessed the commitment of food to photographic memory, it's quite an experience. The process took two days, in the private dining room of Sam Choy's Diamond Head restaurant, which includes the fancy kitchen Choy uses for his television show.
We barely used the kitchen, though. Most of our food was pre-made and carried in. To cook fresh would've taken all week.
Most of the heavy lifting was done by my partner, Muriel Miura, and Jane Gillespie, production director for Mutual Publishing, who showed up with boxes and bags of food, dishes and decorative stuff. They've done this many, many times before. Muriel has 14 cookbooks to her credit. Me? I have one, and shared credit on another.
We do photograph food here at the Star-Bulletin, but it's cut-and-run by comparison. We often shoot in restaurant kitchens and people's homes under less than ideal conditions. In our newsroom studio, I've shepherded through four dishes in 45 minutes, as the photographer clicked away before heading to a news assignment on the other side of the island.
It's just that a higher degree of photo reproduction is necessary when you're working with permanent glossy stock, compared to newsprint that's here today, recycled tomorrow.
Jane has been styling food -- that's what it's called, just like hairstyling -- since the '90s, when Choy began publishing with Mutual. She says she learned by experience and guesswork, developing the mantra: "Keep it simple."
Where once she used lots of decorative items, she says, "I realized we didn't need so many props. It's better to focus on the food."
Our book presented a special problem because so much of the food was brown, beige or white. You know, local stuff -- cutlets, stews, mac-potato salad, noodle and rice dishes.
Jane decided to shoot on simple white dishes with patterned fabric beneath to provide color and texture. "When you have something brown, if you put it on a colored plate, it looks more brown." The food was shot very close-up, with the surroundings falling into soft focus.
Now, with all food photography, a certain amount of fakery is involved. The food doesn't need to be prepared according to the cookbook, it just needs to look like it was.
Face it, fully cooked food can be, well, ugly. Vegetables go mushy; soups get cloudy. So we perked up our Portuguese Bean Soup with undercooked carrots, and our Pancit Bihon with fresh-sliced green beans. In the interest of time, some things were purchased -- any Kalbi, for example, pretty much looks like ours. But that's a secret.
Once, Jane says, she shot a cup of coffee with someone blowing cigarette smoke over the surface to make it look steamy.
The final word should go to our photographer, Kaz Tanabe, a man of few words but much experience, who says it is most important to be in the right frame of mind. "Do not try to take a good food photo when you are very full or very hungry."
Our cookbook's strong point is its collection of recipes from days gone by. Muriel was a home economist teaching classes for the Gas Co. in the 1960s and cooked alongside many chefs of the day as host of the television show, "Cook Japanese."
She dug up such treasures as a copycat Lemon Crunch Cake from the Alexander Young Hotel, Orange Bread from the Jolly Roger, Waioli Fried Chicken from the Waioli Tea Room and this cake from F.W. Woolworth.
Chocolate Dobash Cake
3 eggs, separated
1-1/2 cups sugar
1-1/2 cups cake flour
3/4 teaspoon baking soda
3/4 teaspoon salt
1/3 cup cocoa powder
1/3 cup vegetable oil
1 cup milk
» Frosting:
1-1/2 cups water
1 cup sugar
1/4 teaspoon salt
1/4 cup butter or margarine
1/2 cup cocoa powder
1/3 cup cornstarch
1/2 cup water
Preheat oven to 350 degrees. Grease and flour 2 8-inch pans.
Beat egg whites until frothy; gradually beat in 1/2 cup sugar until stiff.
Sift together remaining 1 cup sugar, flour, baking soda, salt and cocoa. Make a well in center; add oil and half of milk. Beat until well-blended at medium speed. Add remaining milk and egg yolks; beat until smooth.
Fold mixture into egg whites. Pour batter into pans and bake 30 to 35 minutes. Cool, then slice each layer in half to make 4 layers.
To prepare frosting: Combine water, sugar, salt and butter in saucepan and bring to boil. Combine cocoa, cornstarch and water; add to boiling mixture and return to boil. Cool completely. Frost between cooled layers, sides and top.
Nutritional information unavailable.
Send queries along with name and phone number to: "By Request," Honolulu Star-Bulletin, 500 Ala Moana, No. 7-210, Honolulu 96813. Or send e-mail to
bshimabukuro@starbulletin.com