---
FAST FACTS HAWAII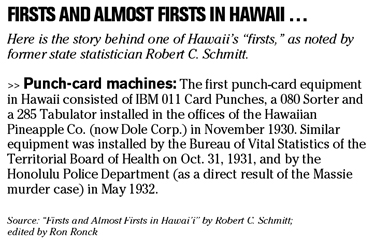 ---
NATION
Everyone thinks they're great
Believe you're among the top performers in your office? You're not alone.
According to a new survey, an impossible 90 percent of managers think they're among the top 10 percent of performers at their workplace. The number is highest among executives, 97 percent of whom consider themselves shining stars, according to a survey in the current edition of BusinessWeek magazine.
"This is what gets you out of bed and to work in the morning," said survey editor Peter Coy. "You have to think you're good."
Nearly 50 percent of workers aged 35 to 54 said employees under age 35 tend to be slackers. Thirty percent of people in that oft-maligned group, those aged 25 to 34, agreed. Another strike against the younger set: 6 percent of respondents under age 30 admitted they've accidentally called their boss "Mom" or "Dad."
The online survey was conducted from June 28 to July 5 and included 2,000 Americans in middle management and above, 25 years and older.
New gadgets quell bad behavior
Thanks to the falling cost of microcontroller chips and the lure of easy online sales, inventors are turning out record numbers of gadgets. One growing subset of these inventions: products that help people neutralize antisocial behavior at the push of a button.
For example, a Tennessee company has created a $50 device that shuts up other people's dogs by answering their barks with an ultrasonic squeal that humans can't hear. (The unit is disguised as a birdhouse.) British inventors are exporting a new product for people who hate lousy drivers -- it's a luminescent screen that fits in a car's rear window and, at the driver's command, flashes any one of five messages to other motorists. These include a smiley face, a sad face and phrases like "Back Off" and "Idiot."
"It's becoming easier for people to imagine that technology is a conduit through which they will solve all their social problems," says Christopher Csikszentmihalyi, director of the Media Lab's Computing Culture group.
Work like you're showing off
We all know what it feels like to be stuck in a rut at work. The hours drag by, the challenges are few and thoughts turn to greener grass on the other side of the cubicle. Claiming responsibility for your rut, however, is the first step in digging yourself back out of it, according to Joe Calloway, author of "Work Like You're Showing Off!"
First, trying changing your attitude. If you're hanging out with negative co-workers, find a new social circle. Ask people you respect what opportunities or advantages you've overlooked.
"We don't feed our own need for being stretched, for being challenged," Calloway said.
If that doesn't work, change your situation. Ask to transfer to another department or volunteer for a new project. Sign up for training or tell your boss you're unhappy. Try asking for a promotion -- even if you don't get it, you've at least sparked a discussion with your superiors. As a last resort, quit.
"Sometimes it's better to be scared than to be bored," Calloway said. "Sometimes uncertainty can create opportunity."
What kind of job-hunter are you?
Think back to your last job search. Did you apply for dozens of jobs in search of the ideal position? Or did you send out a few applications and accept the first offer you received?
If you relate to the former, you're a "maximizer," according to research by Columbia Business School professor Sheena Iyengar. You take your time making decisions in hopes of homing in on the very best option.
If you recognize yourself in the latter, you're a "satisficer." You end your search after finding a result that meets your basic requirements.
Iyengar's research on a group of job-hunting seniors at 11 U.S. colleges and universities found that maximizers received more offers and had higher starting salaries. They were less satisfied with their jobs, however, and more likely to seek another job within a year.
So who's better off, maximizers or satisficers?
"That brings up an ethical question," Iyengar said in the Spring 2007 issue of "Columbia Ideas at Work." "What should we seek to maximize -- peoples' material welfare or their psychological welfare?"
---
BUSINESS PULSE