PETERS OHANA

Tracing a genealogy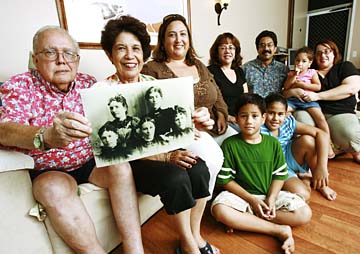 Discovering a Norwegian heritage
Growing up, Chris Peters described herself as Hawaiian, Chinese and haole.
Never would she have said Norwegian.
But after a recent family trip to Norway, including a stop to a farm in a little island town where her great-grandmother was born, she is proud of her Norwegian background.
"We all knew our Hawaiian ties growing up and not much about our Norwegian side," said Peters, 44, a Kaiser High School graduate who now lives in Waikiki. "As we got to Norway and started learning about our great-grandmother and her country, it meant a lot more to us."
Their great-grandmother, Marie Sauset, immigrated to America in the 1880s in search of a better life. Her son moved to Hawaii and married a Hawaiian woman, connecting two families across the world.
Chris Peters and her four siblings grew up in Hawaii Kai. Her father, the family's self-appointed historian, 81-year-old Charles Peters, always knew about their Norwegian connection and kept in touch with relatives there.
Three years ago, their relatives visited Hawaii, but it was only until last year when there was a strong push for the Peters children to learn more about their Norwegian roots.
"By then, I was too crippled to go," Charles Peters said, motioning to his wheelchair. "But I wanted them to go."
Three of his five children -- Chris, Wendy Maher and Manuwai Peters -- left in June along with Wendy's husband, Bear, and two friends for a three-and-a-half-week vacation to Norway. They expected to see Norway's breathtaking mountains, take photos of life-sized trolls and to eat lots of meat, but they didn't know they'd leave with a newfound respect for the Norwegian culture -- their culture.
One of their relatives -- Marit Soholt Stokes -- guided them through the trip.
She took them for mountain hikes at 10 p.m. -- by Norwegian standards, they were simple after-dinner walks -- and fed them brown cheese and reindeer. She brought them to museums so they could learn about the Vikings and took them swimming in 60-degree water.
"We're Hawaiians and we had to swim on vacation," Bear Maher joked.
But the best part, the siblings said, was returning to Sauset -- their great-grandmother's birthplace. Back in those days, Peters explains, Norwegians took their town's name as their surname.
"To me, going back to the farm was the highlight of the trip," said Wendy Maher, 41. "I don't think we gave a lot of thought to where my great-grandmother was born until we were actually there."
A local newspaper there heard about Hawaiians visiting Norway, wrote a short article on the family and included a photo of them wearing kukui nut leis and waving the Norwegian flag. When the article came out, they became instant celebrities in the small town with a population of 7,000.
"Once the paper hit, everyone would stop and wave and say, 'Hey, you're the Hawaiians!' " Chris Peters said.
They gave gifts of Kona coffee and macadamia nuts, and in return the Peters family received dried lamb ("It's sort of like dried aku," Chris Peters said) and souvenirs from Norway.
Like true locals, the Peters sisters travel to Las Vegas together often, but this was the first family vacation. They don't plan on taking another trip to Norway anytime soon, but the Peters family wants to meet their Norwegian relatives sometime in the near future in Africa for a safari. Coming home, they shared stories of Norway and learned that many friends also have relatives there.
"Many people told us, 'Hey, I'm Norwegian, too.' " Chris Peters said. "We learned that they settled in many places across the U.S. Growing up, we would just say we're haole. But now, I would say, 'I'm Norwegian.' "