INTO THE EYE

Hurricane hunters track storm's trek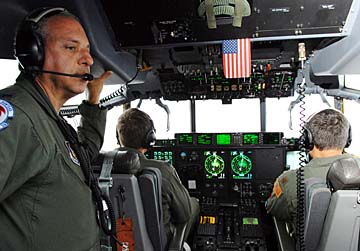 Following faltering Flossie
NINETY MILES SOUTH OF THE BIG ISLAND » Even as the four specially equipped Hercules Hurricane Hunter planes left Thursday after spending three days tracking Hurricane Flossie, two others were on their way to the Virgin Islands where two storms were developing in the Gulf of Mexico and the Atlantic.
On Tuesday, just as Flossie was 90 miles south of the Big Island's South Point, an Air Force Reserve WC-130J Hercules, piloted by Maj. John Wagner, entered the eye or vortex of the storm. At that point, the center was about 250 miles south of Oahu.
Hurricane plane
WC-130J Hercules (Hurricane Hunters)
Assignment: 53rd Weather Reconnaissance Squadron
Primary function: Weather reconnaissance
Optimum cruise speed: 300 miles per hour
Crew: Five
Length: 97 feet
Height: 38 feet
Wingspan: 132 feet
Maximum range: 1,841 miles
Ceiling: 28,000 feet
Source: U.S. Air Force
Wagner's crew was one of five from the Air Force Reserve's 53rd Weather Renaissance Squadron which left Kessler Air Force Base in Biloxi, Miss., last weekend. They also brought a fifth Hercules carrying a maintenance crew -- nicknamed "Flying Jennies."
The 53rd is a component of the 403rd Wing and is the only unit flying weather reconnaissance in the Atlantic, Caribbean, Gulf of Mexico and Central Pacific. Ten C-130 aircraft and 125 airmen and women are assigned to the Hurricane Hunters in Biloxi.
Wagner's mission was one of the last flown by the Hurricane Hunters here. His mission was the sixth and last one to track Flossie as it continued its trek westward. The five planes and their complement of 70 airmen and women then returned to Kessler.
Maj. Jeff Rausa, the deployment's operations officer, said Wagner's crew was to fly into Flossie's vortex at 10,000 feet and deploy a series of GPS dropsondes. Just 16 inches long and weighing 2 1/2 pounds, the sensing devices contain a high-frequency radio.
Suspended from a parachute, which slows its descent to the ocean surface, the dropsonde falls at about 2,500 feet per minute, Ragusa said. Data transmitted collectively give a vertical profile of the conditions within the eye. It transmits temperature, humidity, barometric pressure and wind speed data back to the aircraft, which sends them to National Weather Service forecasters.
As the 97-foot Hurricane Hunter made its first pass into Flossie's vortex on Tuesday, loadmasters Master Sgt. Jay Latham and Senior Airman Larry Banks dropped the first dropsonde. Three others followed, each about a minute apart. At that point, at 3:35 p.m., Flossie was just 90 miles south of the tip of the Big Island, the closest it would ever get to Hawaii.
During nearly a six-hour span the Hurricane Hunter would make three trips into the eye of the storm and drop seven dropsondes.
The flight's weather officer, 1st Lt. Eileen Bundy, said the first flight into the eye took only about three minutes.
Rain hampered visibility.
Besides turbulence, there were flashes of lightning.
Then an eerie calm and finally a patch of blue on the horizon.
Lt. Col. Malcolm Shannon said the eye, which Hurricane Hunter flights reported a day earlier as having a radius of 25 miles, was now only 10 miles wide.
However, the eye had begun to fall apart.
Shannon said the vortex was now shaped like the letter "U," with the opening at the southeastern end.
Reviewing the data from the two trips into the eye, Bundy said the storm appeared to be weakening as it continued on its projected westward track at nearly 14 mph.
"For Hawaii, that's good news," she said after the second trip into the storm's center.
Data transmitted from Wagner's Hurricane Hunter combined with radar and satellite information showed that the eye had disappeared just before the Hercules landed at Hickam at 8:30 p.m. A half-hour later, the National Hurricane Center had downgraded Flossie to a Category 1 storm. By 11 p.m., it was just a tropical storm, with maximum sustained winds of 70 miles per hour.
According to the unit's history, flying into hurricanes started with a barroom dare in 1944 when two Army Air Corps pilots challenged each other to fly through a tropical storm. The 53rd Weather Squadron was activated in 1944 as the 30th Weather Reconnaissance Squadron in Gander, Newfoundland. Its mission then was to fly weather tracks between North America and Western Europe. It has since changed names and airfields several times.
It was assigned to Kessler in 1973, and in 1991 it was deactivated as an active Air Force unit and its duties were transferred to an Air Force Reserve unit. However, Hawaii Sen. Daniel Inouye interceded when the Air Force sought to deactivate the unit. Two years later, the 53rd was reactivated as an Air Force Reserve unit.
The Hurricane Hunters will be back in February for two months to help the National Oceanic and Atmospheric Administration track winter storms in the Pacific.