EMERGENCY LANDING

Pilot recounts harrowing experience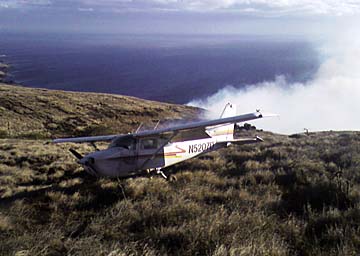 Hillside miracle
As a certified flight instructor, Michael Richards has practiced emergency landings in one-engine airplanes and taught them to pilots in training.
But the landing he made Thursday on a Lanai hillside in a Cessna 172N was the first time he's actually had to land anywhere but on a runway.
"I actually am very proud of how the landing took place and the whole situation," Richards said yesterday from his Oahu home. "What was most of concern was the safety of everybody aboard. We landed very smoothly on the hillside and all of us walked away without a scratch."
The plane, owned by George's Aviation, landed in a hillside field about 4 1/2 miles northwest of the Lanai Airport, after reporting problems at 5:14 p.m. Thursday.
Richards and the two other men aboard were unharmed. The plane's landing gear, a wing and cowling were damaged.
Richards, 28, who does contract work for George's Aviation, wasn't flying the plane when the trouble started. He was observing Ryan Young, 27, an Air Force pilot vacationing on Oahu who wanted to rent a plane for sightseeing.
Young, 26, was making a "check-out flight" to Lanai to demonstrate his skill operating the plane before taking it out solo. In the back seat of the plane was Bill Danyluk, 26, Young's Air Force buddy stationed at Hickam.
About 13 miles from the Lanai Airport, the plane lost power, but Young was able to maintain their cruising altitude of 3,500 feet, Richards said.
But in just a few minutes, the engine lost more power and was running on two of its four cylinders -- not enough to get to the airport, Richards said. He took over the controls and maneuvered the plane to a safe landing.
"It was an unbelievable landing considering the landscape -- it was awesome," said Young, who is stationed at Sheppard Air Base in Wichita Falls, Texas. "We were in complete awe, after we landed, on how well we landed. The only scratches I had was from the bushes when we were walking out."
Passenger Danyluk said he wasn't nervous until right before landing, when he saw "all kinds of ravines and rocks and rough terrain."
Once safely on the ground, Richards set off a flare to mark their location because the radio wasn't working.
Richards said he tried to aim the flare toward the ocean, but it landed on the ground and started a brushfire. Though unintentional, the fire helped the Maui County Fire Department locate the men and plane. The department was able to put out the fire within an hour, Richards said.
Richards said he remains confident in George's Aviation. Although the plane is 28 years old, "I know George's Aviation does do required inspections and maintenance," he said, adding he will "absolutely" continue to use the company's planes.
Both Danyluk and Young said they expect to take a flight in a George's plane within the next week, before Young has to go home.
"It was a fluke incident," Young said.