| | |
| --- | --- |
| | Newswatch |
---
FEMA to help pay for isle fires
The Federal Emergency Management Agency is offering a Fire Management Assistance Grant to Hawaii County to help pay the cost of fighting a 137-acre brush fire near Waimea. The grant will pay up to 75 percent of the costs, FEMA said.
The grant follows a similar one announced earlier this week to pay up to 75 percent of the costs of the Waialua fire that had burned 6,700 acres on Oahu since Sunday.
Big Island firefighters continued mopping up yesterday in the fire area above the Kamuela View Estates subdivision. Residents who were evacuated after the fire was reported at 2:11 p.m. Thursday were allowed to return to their homes the same evening.
Mayor seeks Brownfields sites
Mayor Mufi Hannemann announced the establishment of a Brownfields program for the City and County of Honolulu on Wednesday, and he is asking for the public's help on identifying possible sites on Oahu.
Brownfields are properties that could contain hazardous substances, pollutants, petroleum or contaminants that hinder their redevelopment. Typical sites include closed gas stations, former industrial sites and landfills.
The U.S. Environmental Protection Agency awarded the city grants totaling $400,000 to prepare inventory of Brownfields sites on Oahu and conduct environmental studies on two to five of those sites that have the best potential for redevelopment. The City Department of Community Services is managing the project.
The city is seeking input from the public, and people who are interested can visit www.honolulu.gov/dcs/ brownfields.htm for more information.
ROCK THIS WAY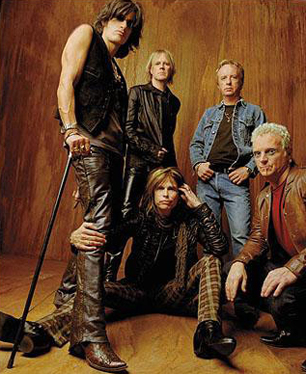 Aerosmith to rock on Maui
Rock 'n' roll legend Aerosmith will fly into Hawaii to perform one concert only, Sept. 26, at Maui's War Memorial Stadium.
The band from Boston is fronted by charismatic singer Steven Tyler and guitarist Joe Perry.
The show is being produced by promoters Shep Gordon and Tom Moffatt and presented by the Maui Arts & Cultural Center. Ticket prices are $85 and $125 for reserved seating and $65 for general admission/bleacher seating (plus applicable fees). Tickets will be available first to MACC members starting 10 a.m. Monday, then to the general public Thursday.
There is an eight-ticket maximum limit per person. Tickets will be available at the MACC box office, from 10 a.m. to 6 p.m. Monday through Saturday, and also by phone at (808) 242-7469 and fax at (808) 244-8850. The public can also start buying tickets on Thursday online at www.mauiarts.org.
Event will honor Queen Liliuokalani
The Hawaii Pono'i Coalition is celebrating the memory of Queen Liliuokalani with "Onipa'a: A Birthday Celebration for Queen Lili'uokalani" on Sept. 2 at the Iolani Palace grounds.
The event, from 10 a.m. to 4 p.m., is free and open to the public. It will feature educational information and displays on native Hawaiian history and culture, entertainment and a multidenominational Sunday service from noon to 1 p.m. Iolani Palace will also be open and provide free tours.
There will be food booths, including Hawaiian food. The public is also welcome to bring their own food and beverages; however, no alcohol is allowed.
There will be free parking for event attendees only from 8 a.m. to 6 p.m. at the Kawaiahao Plaza parking structure, at the corner of South and Kawaiahao streets.
For more information, call 224-8068 or visit www.huiohawaiiponoi.org.
Health problems sideline attorney
The Supreme Court of Hawaii transferred Honolulu attorney Barbara Lee Melvin to inactive status on Aug. 10, due to her assertion of multiple health problems that made it impossible for her to defend herself against a petition by the Office of Disciplinary Counsel.
The counsel's petition asked for an interim suspension of Melvin based on her failure to cooperate in six ethics investigations. Melvin is not eligible to practice law and cannot accept or handle any retainers, clients or legal matters until further order of the Supreme Court.
Melvin, 64, was admitted to the Hawaii bar on Sept. 20, 1976, after attending the William S. Richardson School of Law.
| | |
| --- | --- |
| | Police, Fire, Courts |
---
LEEWARD OAHU
Police arrest man they say had guns
Police said they arrested a 24-year-old felon wanted on a warrant, and found two loaded handguns in his vehicle Thursday morning.
A woman called 911 and reported to police that the man was at a Pupukupa Street address in Waipahu. Officers found the man asleep in his vehicle.
Officers also arrested him on firearm charges after finding the guns, police said. He was also arrested later that morning as a suspect in a burglary.
Suspect is sought in shotgun shooting
Police are looking for a 42-year-old Ewa Beach man who allegedly shot at his neighbor's car with a shotgun.
Police said the man and his neighbor, a 35-year-old woman, were arguing in her driveway.
The man retrieved a shotgun from his garage, then shot and struck the woman's car, police said. He fled in a black compact car with unknown license plate numbers.
WAIKIKI
2 men arrested for alleged assault
Police arrested a 20-year-old man and a 23-year-old man for allegedly assaulting two men in a vehicle in Waikiki at 4:17 a.m. yesterday.
The 30-year-old and 31-year-old victims were in their car and had their windows open when the two suspects punched them from outside and then fled the scene, police said.
The suspects were arrested a short distance away and were identified by the victims, police said.