State jobless rate hits 2.6%
Hawaii's jobless rate ticked up in July, ending a one-month stint as the lowest in the country.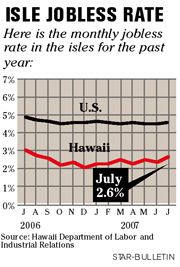 The seasonally adjusted rate rose 0.2 percentage points to 2.6 percent from last month and year, putting it at the second-lowest in the nation behind Idaho, which posted a 2.3 percent unemployment rate for the month.
The national jobless rate increased from its three-month perch at 4.5 percent to 4.6 percent in July.
Hawaii had the No. 1 ranking in the country for seven straight months until March, including an all-time low of 2.0 percent in December. In June, it regained the top spot with a 2.4 percent rate after falling behind Montana and Idaho in May, and Montana in April, according to data from the state Department of Labor and Industrial Relations.
Although the jobless rate has remained below 3 percent since December 2004, it is expected to increase as the economy continues to slow, said Leroy Laney, a professor of economics and finance at Hawaii Pacific University.
"It's got a ways to go before it's into a range that we would consider a high unemployment rate," he said. "Until it gets up into the 3 percent range, we are still going to have to realize that we are in a very tight labor market."
It may be several months to a year before the state's jobless rate creeps into that range, said Laney, who is also a consultant for First Hawaiian Bank.
Paul Brewbaker, chief economist at the Bank of Hawaii, said he expects the unemployment rate to inch upward into a range of 3 to 4 percent by the end of next year as tourism and real estate face downward pressures.
"I don't think we are really talking yet about outright recession," Brewbaker said. "Slowly there are parts of the economy, like construction and housing, that are going through a certain amount of contraction."
Total nonagricultural jobs decreased by 1,700 to 630,600 in July over the prior month. Year over year, the number of jobs grew by 16,200, or 3.6 percent, with the private sector accounting for 90.7 percent of the growth, the Department of Labor report said.
In the private sector, the educational and health services segment saw the biggest drop, at 700 jobs from the previous month, followed by leisure and hospitality, at 400 jobs because of the temporary closure of a Maui hotel for renovations. The trade, transportation and utilities sector posted the same loss.
The government had a decline of 400 jobs in July -- 100 positions at the local level, and 300 for the state, mainly in the Department of Education.
By county, which are not seasonally adjusted, Honolulu and Kauai had the lowest jobless rate, at 2.8 percent, followed by Maui County at 3.1 percent and Hawaii County at 3.8 percent. By island, Lanai's non-seasonally adjusted unemployment rate was the lowest at 2.6 percent, while Maui was at 3 percent and Molokai at 5.8 percent.