| | |
| --- | --- |
| | Newswatch |
---
Trio safe after crash landing
A Cessna 172 lost power and crash-landed on Lanai yesterday afternoon, but all three people on board survived without injuries, officials said.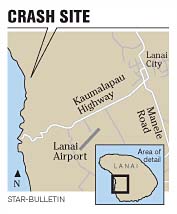 The crash landing occurred about four miles northwest of Lanai Airport.
Maui police reported the three men in their 20s were not injured.
The pilot put out a distress call before making the hard landing, said state Transportation Department spokesman Scott Ishikawa.
Federal Aviation Administration spokesman Ian Gregor said the pilot reported low engine power at about 5:14 p.m. and made an emergency landing on a hillside. "He landed going uphill," Gregor said.
The plane's propeller, cowling and wing suffered damage, but all three people on board were safe.
"Obviously the pilot did a heck of a job in a bad situation," Gregor said last night. "I just talked by cell phone to the pilot, and he and his companions were hiking out of the area."
The plane was flying from Honolulu to Lanai. According to FAA records, the Cessna was owned by George's Aviation Services Inc. on Oahu and was issued an airworthiness certificate in 1979.*
The crash caused a brush fire, which burned 30 to 40 acres before darkness fell, the Maui Fire Department said.
CORRECTION
Tuesday, October 2, 2007
» A Cessna 172 that lost power and crash-landed Thursday on Lanai was manufactured in 1979 and was issued an airworthiness certificate that same year. A "Newswatch" brief on Page A3 incorrectly said the plane was issued its certificate in 1969.
Please see the applicable
Corrections
page for more information.
Earthquakes rumble on Big Isle
HILO » Big Island residents were awakened again by nighttime earthquakes yesterday, this time in the upper Puna District.
A magnitude-3.8 quake struck at 3:02 a.m. and was centered six miles north of Volcano village on the east slope of Mauna Loa. The depth was 17 miles, according to the Hawaiian Volcano Observatory. A micro-quake, 2.4 magnitude, 15 miles deep, hit the same area at 5:29 a.m.
The location and depth set the quakes apart from two Kilauea quakes earlier this week.
At 2:23 a.m. Wednesday a magnitude-4.4 earthquake centered seven miles southeast of Kilauea caldera jolted the Big Island. That was 10 miles west of a magnitude-5.4 quake on Monday night. Both were 6 miles deep, much shallower than the Mauna Loa quakes.
The Kilauea quakes were on the south side of Kilauea, an area creeping seaward at the rate of 2.4 inches per year.
Shark spotted feeding on carcass
A beachgoer spotted a 10-foot shark feeding on a deer carcass yesterday afternoon off a Maui beach, Maui County officials said.
County officials closed Keawekapu Beach on Maui's south side yesterday after a 1:45 p.m. sighting. A 1-mile stretch on both sides of the immediate area was closed.
The park was reopened at 3:30 p.m. after the carcass was disposed of, Maui County spokeswoman Mahina Martin said.
State to receive security funding
The state is receiving $1.3 million in federal grant money to bolster port security and improve disaster preparedness efforts, U.S. Sen. Daniel Inouye's office announced.
About $765,000 of the funds from the Department of Homeland Security will go to the state Department of Transportation for port security improvements, Inouye said.
The rest will go to support local emergency management and preparedness efforts.
The money is from the Homeland Security Department's Emergency Management Performance Grant Program.
Isle suspect caught in Erie, Pa.
A former office manager for a Kailua church accused of stealing more than $50,000 was arrested Wednesday in Erie, Pa., the city prosecutor's office said.
Kimberly Wheeler was indicted Aug. 8 on charges she stole from Windward Unity Church coffers and also used the identity of the minister to open up lines of credit upon which she charged personal expenses.
The thefts allegedly occurred between February 2005 and February 2006 during her tenure as assistant and then office manager, prosecutors said.
Bail will be set at $50,000 when she is returned here to face the charges.
| | |
| --- | --- |
| | Police, Fire, Courts |
---
WEST OAHU
Ewa woman busted in alleged rampage Police arrested a 28-year-old Ewa woman Wednesday who allegedly rampaged through her neighborhood with her car and endangered the life of her 3-month-old baby.
Police said the woman had argued with her 30-year-old boyfriend on Tuesday and then left their Ewa home. The woman returned at about 1 p.m. Wednesday with the couple's son in her car.
When the boyfriend refused to come out of the house, the woman used her car to ram a tree, an electric transformer box and the house, police said.
The boyfriend came out of the house and tried to take the child out of the car, police said.
The woman then backed her vehicle into a second tree, a fire hydrant and a neighbor's fence and gate, with the boyfriend hanging onto the car, police said.
Police arrested the woman for investigation of five counts of first-degree property damage, second-degree reckless endangering, abuse of a household member and first-degree endangering the welfare of a minor.
The baby did not suffer any apparent injuries, police said, but was taken into protective custody to be checked out.
Man is charged with abusing wife
Police arrested a 31-year-old Waipahu man who allegedly pinned his wife to the ground with his knee during a domestic dispute.
Police said the husband and wife, 32, were arguing at about 1 a.m. on Saturday when he shoved her to the ground, threatened her and then put his knee on her throat, making it difficult for her to breathe.
Police later arrested the husband for investigation of second-degree terroristic threatening and felony abuse of a household member.
HONOLULU
Security says duo stole store's stuff Police arrested two men, ages 20 and 21, who allegedly teamed up to steal several items from a store at the Mall at Pearl Harbor, 4725 Bougainville Drive.
Police said security officers at the store saw the men put several items inside their bags at about 4:30 p.m. Wednesday and then leave the store without paying.
The security team held the men until officers arrived. Police arrested them for investigation of second-degree theft.
Both men were later released pending investigation.
Kidnapping, threat charges hit 2 men
Two downtown Honolulu men, ages 19 and 27, were arrested Wednesday on suspicion of first-degree extortion, kidnapping, first-degree terroristic threatening and use of an electric gun.
Police said a 59-year-old man was waiting at a bus stop at 420 Ward Ave. at about 3:40 p.m. Wednesday when he was approached by a 19-year-old man who was driving by.
The suspect allegedly informed the victim that he owed the 19-year-old $20,000.
The suspect's friend then allegedly pulled out an electric stun gun and demanded all the man's money, police said.
The victim got into the suspects' vehicle. Police arrived shortly afterward and arrested the two men.