| | |
| --- | --- |
| | Island Mele |
---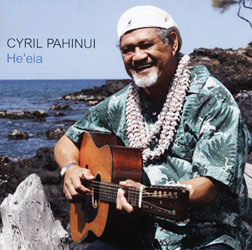 "He'eia"
Cyril Pahinui
(Dancing Cat)
Slack-key fans, rejoice! George Winston has resumed adding new titles to his epic Hawaiian Slack Key Guitar Masters series. More than 30 albums were already out when he put the project on hold several years ago, and he picks up where he left off with this gem by Cyril Pahinui. It's Pahinui's third solo album for the series, and another perfect showcase.
Pahinui opens soft and melodic with an instrumental arrangement of the title song that he plays using the popular C Mauna Loa tuning. He switches to Atta's C Major tuning for most of the songs that follow; a second version of "He'eia" is one of them. Serious students of the genre will welcome the opportunity to compare the two.
Pahinui's father, Gabby, was as well-known for his distinctive singing voice as for his skill as a guitarist. Cyril reaffirms his place as a conservator of that side of the Pahinui family legacy with four beautiful vocal performances.
Producer Winston set a new standard for Hawaiian album annotation with the release of the first two albums in the series in 1994, and he maintained it thereafter. Anyone who is discovering Cyril Pahinui or slack key with this album will find it a perfect introduction to the artist, to the Pahinui family and to fascinating traditions of slack key.
---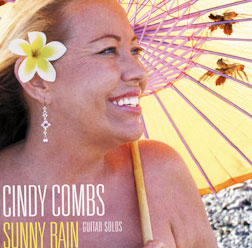 "Sunny Rain"
Cindy Combs
(Dancing Cat)
Cindy Combs occupies a unique place in Hawaiian music as the only female included in George Winston's Hawaiian Slack Key Guitar Masters series. Her first album for Winston, "Slack Key Lady," was released in 2001. This is her second, and it is just as beautiful.
Combs displays her command with instrumental arrangements of 14 melodies. Five originals prove her to be an accomplished composer of soothing melodious music. Her arrangements of the others offer new perspectives.
Combs' gentle yet stirring "Days of My Youth" heightens our awareness of the poignant subtexts in Kui Lee's description of generations in transition. Her version of "Lullabye (Goodnight Keiki)" touches the heart, as well.
Kaona (hidden meanings) can be found not only in song lyrics, but sometimes also in the order in which songs are performed. Combs' choice of songs, and the order in which she presents them, suggests the passage of a tropical Hawaiian day that begins with the titular "sunny rain" and ends with a final parting sometime after sundown.
And, as with every other album in the masters series, this one includes a wealth of information on Combs, the tunings she uses, and all the other information necessary to fully appreciate her music.
Note: Catch Combs live during her public library tour. See below.
---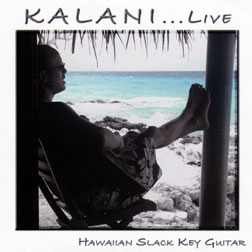 "Kalani Live ...
Hawaiian Slack Key Guitar"
Kalani Smythe
(Daniel Ho Creations)
This album by Daniel Ho's latest discovery introduces an artist with an interesting pedigree. Smythe grew up playing slack key on Maui, was a winner in the slack-key category in the 2nd Annual KCCN/FM100 Pride of the Islands talent contest, and was featured (as Ryan Smythe) on a KCCN/FM100 compilation album.
Several years later, he met a couple who produced a concert for him at an intimate oceanfront restaurant in California. Tape was rolling, and this album became a memento of the performance.
Smythe shares a mixed bag of Hawaiian classic and contemporary island music. The set list includes traditional favorites such as "Meleana E" and "Hawai'i Aloha," a beautiful instrumental arrangement of "E Ku'u Morning Dew," and a fresh recording of his KCCN winner, "A Cruse to Keanae."
Smythe also sings in a mellow laid-back style that fits his soft and melodious slack-key arrangements perfectly.
Give him credit for an arrangement of "Moloka'i Slide" that minimizes the problematic melodic riffs of the hit version, and also for an extended rendition of "Real Old Style" that does justice to the full spectrum of emotions that percolate though the lyrics.
It must have been the producers' choice, but there is almost no sense of a crowd being present except when Smythe takes a moment to explain Hawaiian words and island phrases. On the other hand, who wants to hear crowd noise on a slack-key album?
All in all, it sounds like it was night to remember.
John Berger
, who has covered the local entertainment scene since 1972, writes reviews of recordings produced by Hawaii artists. See the Star-Bulletin's Today section on Fridays for the latest reviews. Reach John Berger at
jberger@starbulletin.com
.